Welcome to Medway Neurological Network Website
Dear MNN website user: if you see an Oops License expired notification then please rest assured that the issue has been resolved BUT you will need to Clear your Browser history to remove the annoying notification. Apologies.
Our AIM: To be the voice of all those affected by neurological conditions in Medway - a single point of access

Our Mission:
To defend and improve the quality of health and social care services available to those with neurological conditions
To raise awareness of neurological conditions in Medway and the support services that are available
To campaign for improved disability services and facilities
To promote and support services/ therapies/ research projects aimed at improving health & wellbeing, e.g. Medway Skylarks

Our Participants:
Currently we have 13 neurological charities and support groups participating in our Network, and we are also fully engaged with 8 major service providers in Medway. All of our participants are invited to attend our quarterly Steering Group meetings. For a full list of our participants, and links to their websites, please see our
Participants
page.
Please click on the images below to find out about our Activities, Medway Skylarks - click
here
for
Skylark's videos
, and our Awareness Events.
Activities
Find out about our Neuro-cafes, our campaigns, and our planned events e.g. Medway Neuro-Arts Festival, 19-21 July 2019.
Medway Skylarks
We help organise & promote this singing & movement (Sing to Beat Parkinson's) group, that has proven therapeutic benefits - see our videos.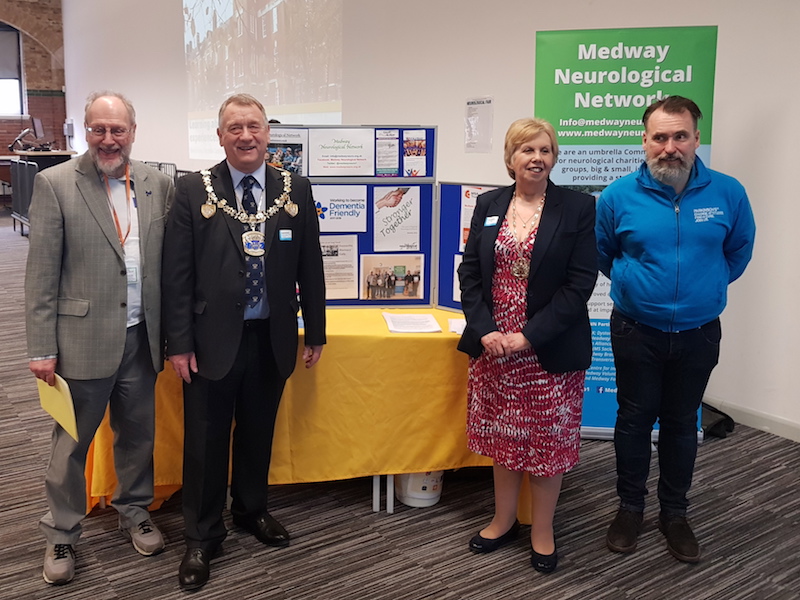 Awareness Events
We help promote our Participant's own awareness events and also organise our own, such as the Medway
Neuro Arts
Festival 2019 & the Medway
Neuro-Fair
2018.
Breaking News:
1
. Neuro-Arts on Tour:
This MNN event, co-ordinated by Sam Rapp (the dyslexic poet), will showcase the therapeutic value of the arts. Featuring Jane Cullen's award-winning play 'Say That Again' about Parkinson's disease, the tour will visit: the Glass Box Theatre, MidKent College on 11 June (
Flyer
for ticket information); St Margaret's Church (
Flyer
), Rochester on 25 June; and St John's Church (
Flyer
), Chatham on 9 July. The programme will run from 1pm to 6.30pm and will include: 'Music4Wellbeing Music Therapy' and' Fun with Words' workshops + poetry readings + information stalls. For more information see the
Press Release
.
2. Canterbury Cantata Trust celebrated its 10 Anniversary with a 'Caring Through Singing' event (see
flyer
) that took place on 30 April at the famous Colyer-Fergusson Hall, University of Kent.
The Trust
developed the evidence-based 'Sing to Beat Parkinson's' therapy used by Skylarks music & movement therapy groups. Medway Skylarks participated in this event. This event was live-streamed and a recording can be viewed using this
LINK
. This event is raising funds for the new
Parkinson's Centre for Integrated Therapy
, Canterbury; to make a donation, please click
Here
.
3.
Medway Skylarks goes HYBRID Face-to-face/ Zoom, starting 12 March 2022.
Please go to the
Skylarks tab
to see details and how to join our HYBRID sessions that are held every Saturday morning from 10.30am to 12 Noon. Sue Lovell facilitates this group and is using Canterbury Cantata Trust's evidence-based 'Sing to Beat Parkinson's' technique for enhancing wellbeing for those living with Parkinson's disease AND it has been shown to be beneficial for those living with many other neurological conditions.
4.
Rare Disease Day Event, 28 February
: Medway Neurological Network helped The European School of Osteopathy, Boxley, Kent organise this event. The Deputy Lieutenant of Kent and the Mayor of Maidstone presided and speakers addressed a range of neurological conditions, including: Chromosome Abnormality, Hereditary Spastic Paraplegia, Motor Neurone Disease, and Young Onset Parkinson's Disease. Information stalls provided further information on these, and other rare conditions. To see KMTV coverage of the event, please click
HERE
.
5. Medway Neurological Network AGM - was held on Tuesday 1 March, on the Zoom platform. It was decided to further explore changing status from a Community Support Group to a Charity or other incorporated organisation. In this regard MNN is looking for volunteers to act as Trustees; if you are interested in this opportunity and would like to find out more, please email: info@medwayneuro.org.uk.

6. Foetal Alcohol Spectrum Disorder (FASD) Awareness: Emergency Appeal for Fund.
Please click
Here
for more information.
7. Disability Sports in Medway - Survey
. Disability Medway Network CIC is working in partnership with Medway Neurological Network and some other Medway community groups and disability sports providers to put on a Medway Disability Sports event in 2022 or 2023. The aim of this
survey
is to find out what kind of disability sports you would like to see in Medway.
8.
Medway NHS Foundation Trust (Medway Maritime Hospital.
Please click
HERE
to see the Spring 2022 edition of News@Medway.
9. Medway Voluntary Action: To see the latest MVA Volunteer Bulletin, March 2022, please click
HERE
.
10. Kent & Medway CCG
Community Bulletin:
Please click
Here
to see issue 54, 28 April 2022. All the latest on Coronavirus and health services in Kent and Medway.
11. Improving Access to Psychological Therapies (IAPT) Webinar:
Phil Bungay participated in this webinar, hosted by NHS England. It included talks by: Geogina Carr, the CEO of the Neurological Alliance; Wendy, who gave an talk on being a patient living with Dystonia; Dr Jason Price a Consultant Neurophycologist at the James Cook Hospital in Middlesbrough; Dr Michael Dilley from the Wolfeson Neuro-reabilitation Services at St Georges Hospital; SW London, and Phil a person living with Parkinson's. This webinar was part of the Improving Access to Psychological Therapies (IAPT) programme by NHS England. The IAPT programme began in 2008 and has transformed the treatment of adult anxiety disorders and depression in England. To access this very interesting webinar please click
HERE
.
12. Neurological Alliance has published:

i). Neurological Alliance Newsletter, 26 November 2021 - please click Here.
ii).
The findings of the
Patient Experience Survey, see Here
for the
Key Findings and Here for the Policy Report.
Thank you to all those who participated in this survey.
iii). Neuro-Numbers 19,
giving the latest incidence figures for neurological conditions - click
Here
to see this report.