Welcome to Medway Neurological Network Website
Our AIM: To be the voice of all those affected by neurological conditions in Medway - a single point of access

Our Mission:
To defend and improve the quality of health and social care services available to those with neurological conditions
To raise awareness of neurological conditions in Medway and the support services that are available
To campaign for improved disability services and facilities
To promote and support services/ therapies/ research projects aimed at improving health & wellbeing, e.g. Medway Skylarks

Our Participants:
Currently we have 13 neurological charities and support groups participating in our Network, and we are also fully engaged with 8 major service providers in Medway. All of our participants are invited to attend our quarterly Steering Group meetings. For a full list of our participants, and links to their websites, please see our
Participants
page.
Please click on the images below to find out about our Activities, Medway Skylarks - click
here
for
Skylark's videos
, and our Awareness Events.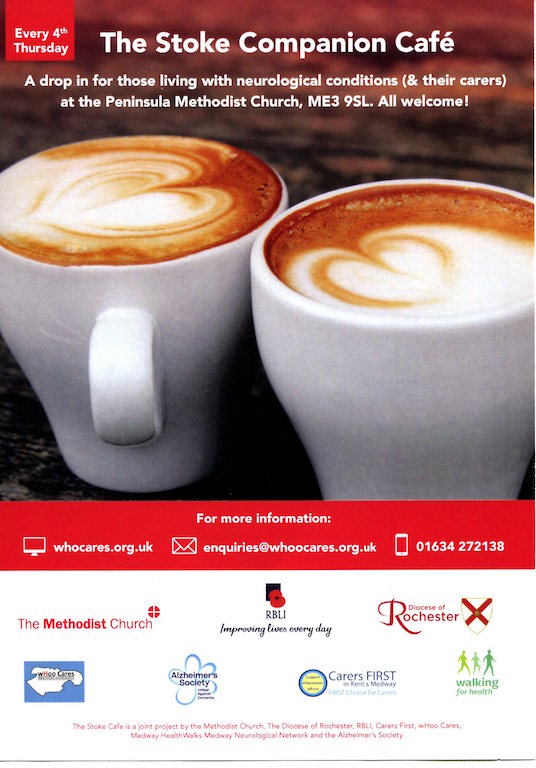 Activities
Find out about our Neuro-cafes, our campaigns, and our planned events e.g. Medway Neuro-Arts Festival, 19-21 July 2019.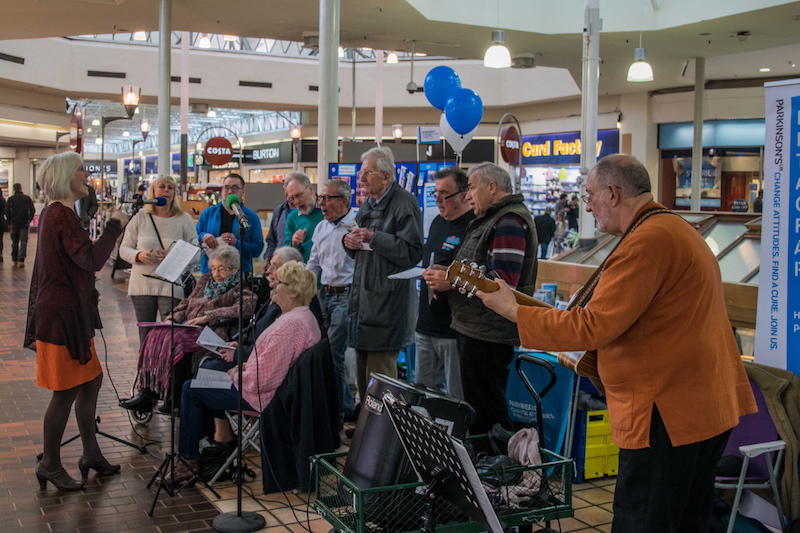 Medway Skylarks
We help organise & promote this singing & movement (Sing to Beat Parkinson's) group, that has proven therapeutic benefits - see our videos.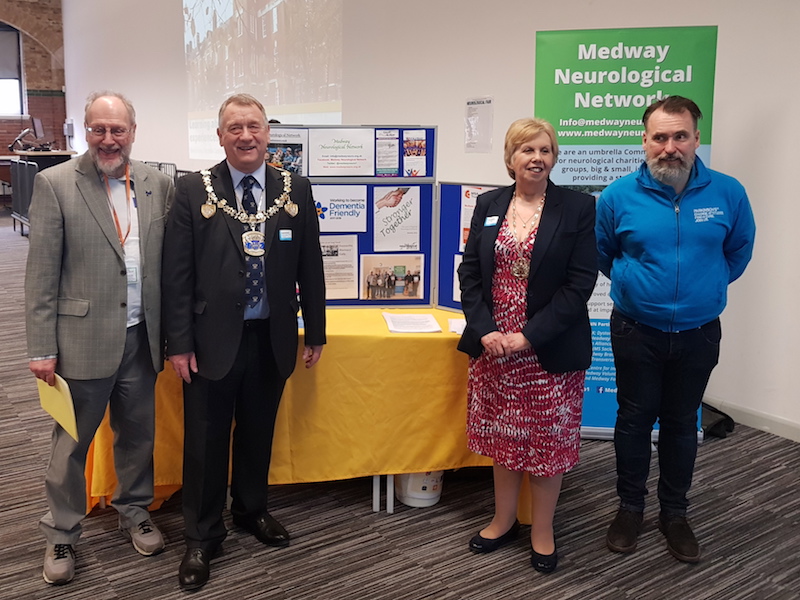 Awareness Events
We help promote our Participant's own awareness events and also organise our own, such as the Medway
Neuro Arts
Festival 2019 & the Medway
Neuro-Fair
2018.
Breaking News:
1. Foetal Alcohol Spectrum Disorder (FASD) Awareness webinar 'My FASD, My Voice', Thursday 20 January 2022, 8.15pm. You are invited to register for this webinar, featuring a talk by Maggie May, by clicking Here.
2. Hurry, Hurry, Hurry: Survey closes 6 February. Please complete the
#MyNeuroSurvey 2021 and help improve neuro services. This important Neurological Alliance survey is available in a version for Adults and a version for Children and Young People. If your child has a neurological condition you can complete the survey with them or on their behalf.
Share your experiences. Getting the right care, treatment and support at the right time can make a life-changing difference when you have a neurological condition. But there are huge variations across the UK – not everyone with a neurological condition in the UK has access to the same high quality, joined up care and support. By sharing your experiences, you'll help to gather the evidence to make the case for change. My Neuro Survey is completely anonymous and secure; make a real difference. Data from previous surveys has been used to improve services in hospitals, develop new specialist centres, and spark debate in Parliament. The survey takes around 20 minutes to complete. Please take part and make your voice heard. Thank you.
3. Launch of Medway Non-Visible Disability Initiative (NVDi): This event was
held
in
Rochester Cathedral on 3
September 2021 - please click Here to see
KMTV Online coverage and
Here
to see a BBCRadio Kent interview given by Jenny Walsh, CEO of Headway Kent.
4. Disability Sports in Medway - Survey
. Disability Medway Network CIC is working in partnership with Medway Neurological Network and some other Medway community groups and disability sports providers to put on a Medway Disability Sports event in 2022 or 2023. The aim of this
survey
is to find out what kind of disability sports you would like to see in Medway.
5.
Medway NHS Foundation Trust (Medway Maritime Hospital.
Please click
HERE
to see the December Community Engagement Update.
6. Eternal Lakes Parkinson's UK in Medway Cafe and Neuro Drop-In: L
aunched on 5 August 2021 by the he Mayor of Medway Cllr. Jan Aldous and the to open monthly on the first Thursday of each month - see the Medway
Neuro-Cafes
tab for more details, including a video of the Skylarks performance.
7. All Change in the NHS. Jane Howard, CEO of Medway Voluntary Action writes:
You may be aware that changes are occurring in the NHS. In short, what was Clinical Commissioning Group areas have changed into Integrated Care Systems (ICSs) within which Integrated Care Partnerships (ICPs) operate on a 'local' level with the aim of delivering services tailored to the needs of communities that fall within their smaller geographical areas. In Kent and Medway we now have one Kent and Medway ICS which is an amalgamation of 8 CCGs. Within this there are 4 ICPs. Servicing Medway is the Medway and Swale ICP.The Medway and Swale ICP are utilising a model called Population Health Management. This model takes a holistic view of health and recognises that the wider determinants of health have an impact on whether someone lives a long and healthy life or not. For this reason this model works at tackling these wider determinants of health.> These changes come into full operation in April 2022.
To see the latest MVA Volunteer Bulletin, please click HERE.
8. Kent & Medway CCG
Community Bulletin:
Please click
Here
to see issue 43, 14 January 2022. All the latest on Coronavirus and health services in Kent and Medway.
9.
Medway Skylarks now online
: Please go to the Skylarks tab to see details and how to join our Zoom sessions that are held every Saturday morning from 10.30am to 11.30am. Sue Lovell facilitates this group and is using Canterbury Cantata Trust's evidence-based 'Sing to Beat Parkinson's' technique for enhancing wellbeing for those living with Parkinson's disease AND it has been shown to be beneficial for those living with many other neurological conditions.
10. Improving Access to Psychological Therapies (IAPT) Webinar:
Phil Bungay participated in this webinar, hosted by NHS England. It included talks by: Geogina Carr, the CEO of the Neurological Alliance; Wendy, who gave an talk on being a patient living with Dystonia; Dr Jason Price a Consultant Neurophycologist at the James Cook Hospital in Middlesbrough; Dr Michael Dilley from the Wolfeson Neuro-reabilitation Services at St Georges Hospital; SW London, and Phil a person living with Parkinson's. This webinar was part of the Improving Access to Psychological Therapies (IAPT) programme by NHS England. The IAPT programme began in 2008 and has transformed the treatment of adult anxiety disorders and depression in England. To access this very interesting webinar please click
HERE
.
11. Neurological Alliance has published:

i). Neurological Alliance Newsletter, 26 November 2021 - please click Here.
ii).
The findings of the
Patient Experience Survey, see Here
for the
Key Findings and Here for the Policy Report.
Thank you to all those who participated in this survey.
iii). Neuro-Numbers 19,
giving the latest incidence figures for neurological conditions - click
Here
to see this report.