Kent ACPIN Evening 0f 'Neurological themed lectures', Wednesday 2 October, 6pm - 9pm.
Medway Neurological Network was invited to give a presentation at this meeting, describing the work of MNN and in particular the Medway Neuro-Hub proposal. To see this presentation, please click
Here
.
The picture to the right shows Jenny Evans, MCH Lead Therapist and her colleague just finishing answering questions on their talk 'Voice Therapy in Parkinson's'. To the left Janine Starling, Area Develpment Manager (Kent), Parkinson's UK, is setting up her Powerpoint presentation.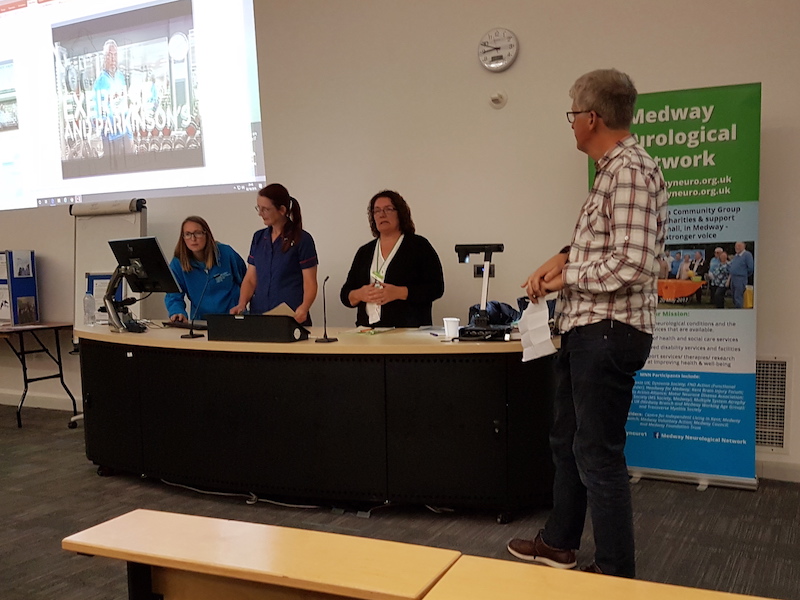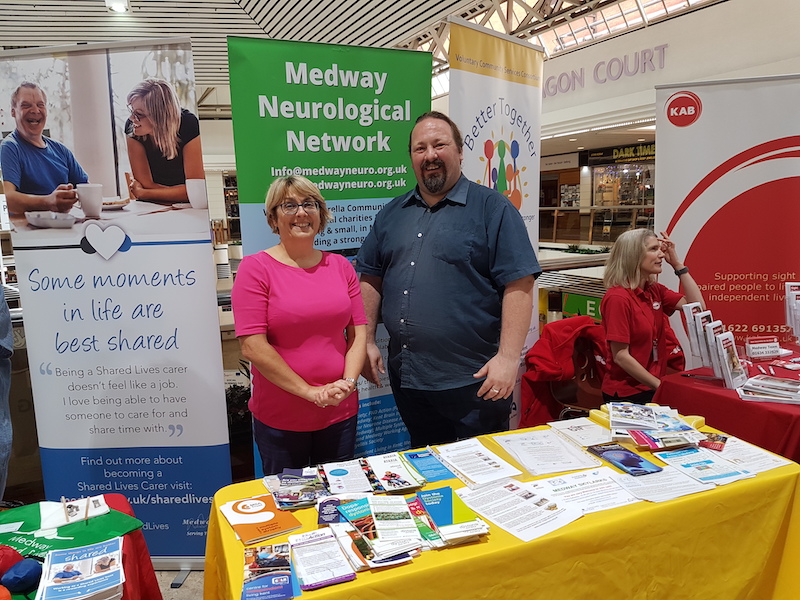 Social Prescribing Day event, 26 September 2019
Medway Neurological Network was one of 35 information stalls at this event, organised by Royal British Legion Industries (RBLI), held in the Pentagon Centre, Chatham.
The picture to the left shows MNN volunteer Nicola Moy manning our stall whilst being joined by Cllr. Vince Maple.
There was quite a lot of interest in our MNN Skylarks and Neuro-cafe leaflets, as well as information provided by Network participants.
Medway Clinical Commissioning Group AGM
25 September 2019 - Corn Exchange, Rochester
Dr Peter Green, Clinical Chair, Medway CCG, is shown visiting the MNN stall in the picture to the right. Dr Green said that he was very aware of the work of MNN and thanked us for participating in this event.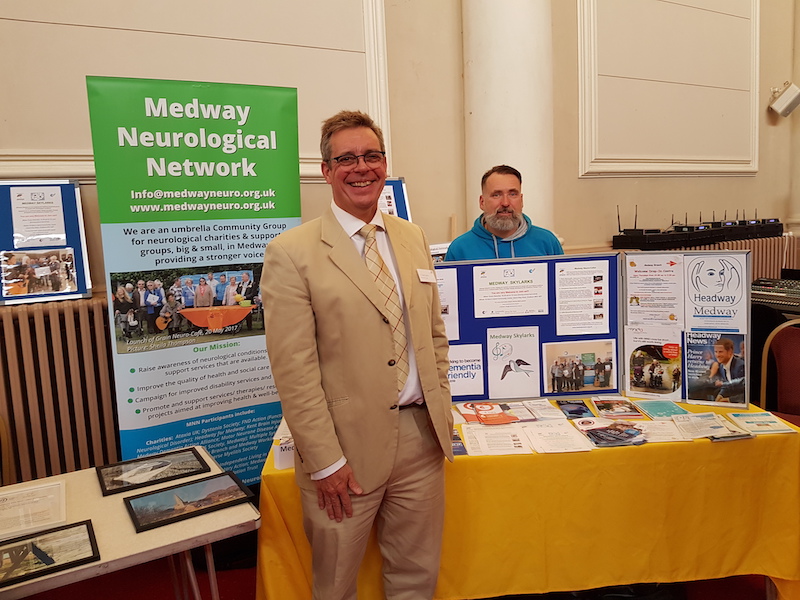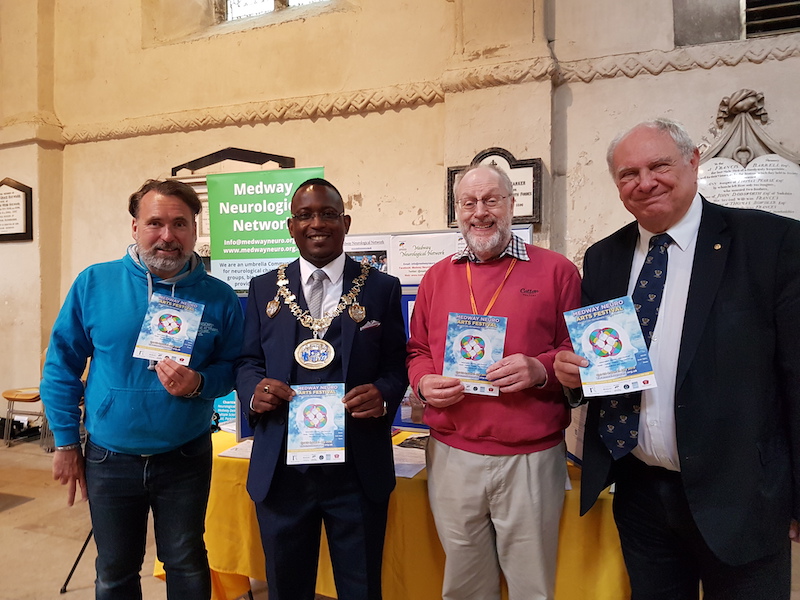 Opening Doors to Dementia, 28 May 2019
This was a Medway Dementia Action Alliance and Rochester Anna Chaplaincy Event for Dementia Action Week, held at Rochester Cathedral.
Medway Neurological Network had an information stall where we were promoting the forthcoming Medway Neuro Arts Festival. We were joined by the new Mayor of Medway, Cllr. Habib Tejan, and Cllr. David Brake (Portfolio holder for Adult Services and Chair of the Health & Wellbeing Board), see photo to left.
Wayne Eaton was a brilliant Master of Ceremonies, ably assisted by Lorraine Brown who questioned the Panel of experts. The Bishop of Tonbridge, Rt Reverend Simon Burton-Jones, together with the Mayor of Medway opened this event. There were moving contributions by Denise Wilton, who talked about supporting her father Alan, who has dementia, AND of her father's major contribution to helping and supporting others with dementia in Medway. Elizabeth
Miller
read some of her extremely moving poems about her mother's dementia, as she launched her book of poems about dementia called 'Penumbra'.
Medway Maritime Hospital SUMMER FAIR, 7 July 2018
Medway Neurological Network was fortunate to be given a stall in the very busy Atrium, right next to the Mr Sawbones operating game!! Ian, Jane & Martin were able to help and signpost a good number of people who had neurological concerns.
Congratulations to
Medway Hospital
on organising a great event,
celebrating 70 years of the NHS
; where would we be without them?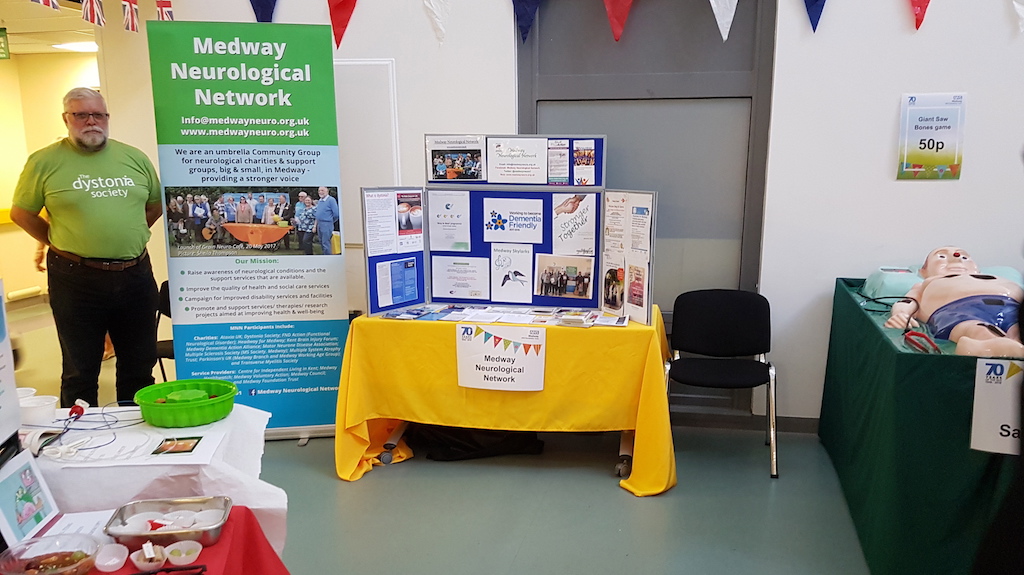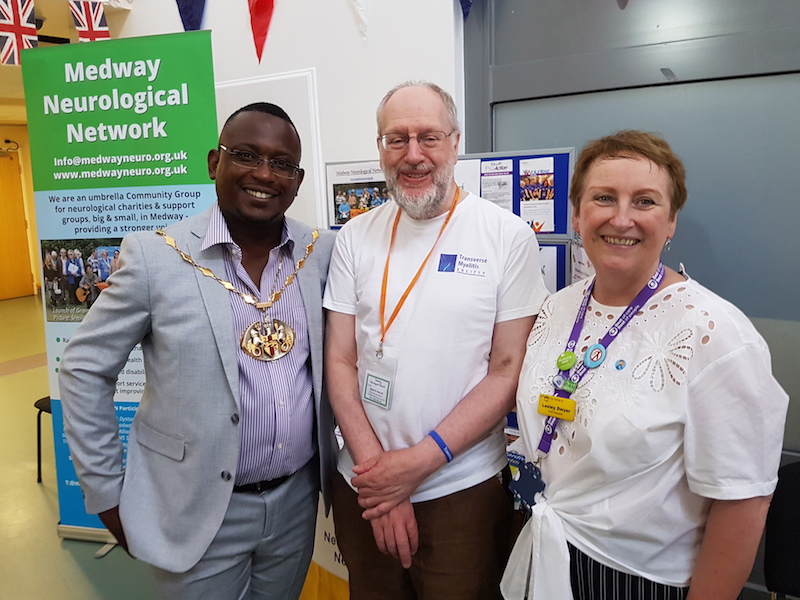 VIPs Visit the MNN Stall
Deputy Mayor of Medway, Cllr. Habib Tejan, showed an interest in our stall, and offered to drop in on one of our Medway Skylarks sessions. Medway Hospital CEO, Lesley Dwyer, was passing by so Martin grabbed a photo opportunity, as shown to the left.
Cllr. Wendy Purdy, who is a strong supporter of MNN, not only dropped by, but helped on the stall!! We were also very pleased to see another of our long-time supporters, Cllr. Vince Maple, pay us a visit. It should be added that everybody that visited our stall was also a VIP.
Thanks are due to Ian Prior, Jane Etheridge and son Will, and Martin Nagler for setting the stall and manning it throughout the day.
Disability Medway Network Fayre, 6 July 2018,
St Justus Church
Many thanks to organiser, Joe Wastell, for inviting Medway Neurological Network, and its participants, to have a stall at this valuable awareness event. Pictured is the Motor Neurone Disease Association stall, manned by Sheila Thompson.
Disability Medway Network is doing a great job raising awareness of support for those with disabilities in Medway. This fayre, sponsored by Involving Medway, will be going on tour and another three events are planned throughout Medway.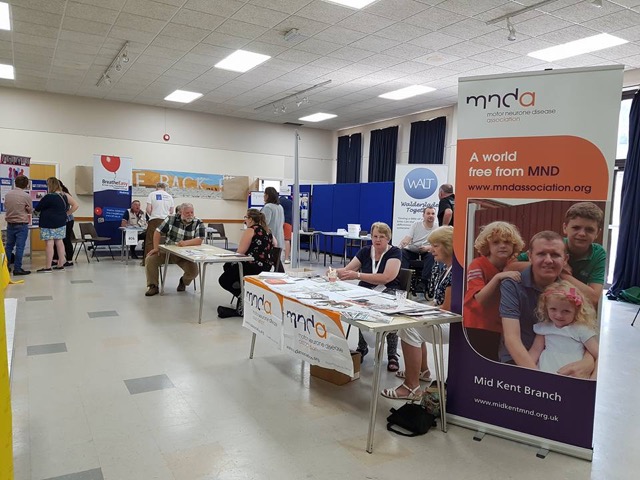 Awareness Events
Parkinson's Awareness Event at Sainsbury's, Hempstead Valley, on 11 April 2018; Medway Skylarks performance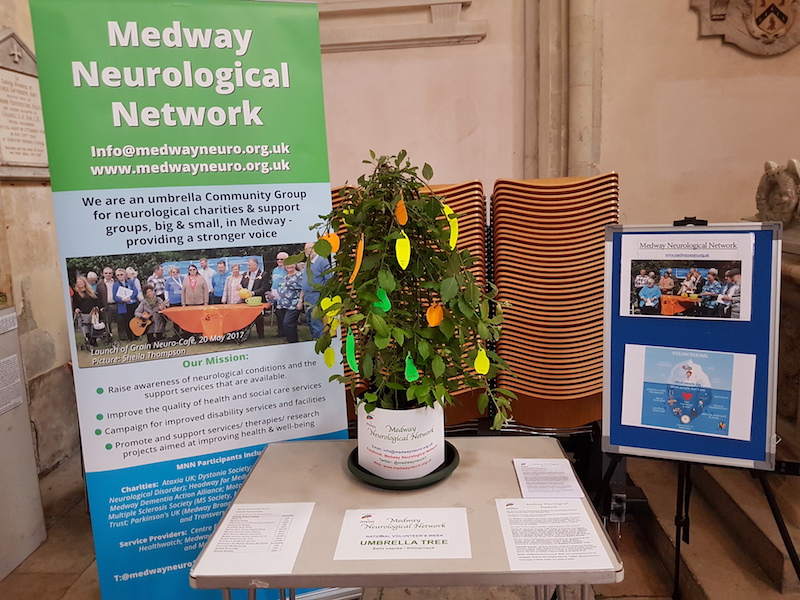 Fruits of Volunteering Tree Event, Rochester Cathedral, 1-6 June 2018
This event, organised by the Voluntary and Community Services (VCS) Leaders Network, was Medway's contribution to the National Volunteers Week, for more information, please click
HERE
. The theme was 'Fruits of Volunteering' and organisations were invited to exhibit a TREE that illustrated their volunteering work. MNN exhibited the tree shown to the left with each of the charities and support groups in the Network represented by a fruit on the tree. Individual stories of volunteering, and its rewards, are invited to either be placed on the tree, or displayed beneath it.
Many thanks to Cllr. Wendy Purdy, Watling Ward, for sponsoring the tree.
Medway Dementia Action Alliance: Opening Doors to Dementia Event, 30 May 2018
This major event was held in Rochester Cathedral. It was opened by Tracey Crouch MP, Minister for Sport & Loneliness, and had a full programme of talks and an awareness marketplace. Medway Neurological Network joined 16 other stall-holders at the marketplace and we can report a lot of interest in our work.
Loneliness was a recurring theme and our MNN Neuro-cafes, and indeed our Medway Skylarks, can all help reduce loneliness.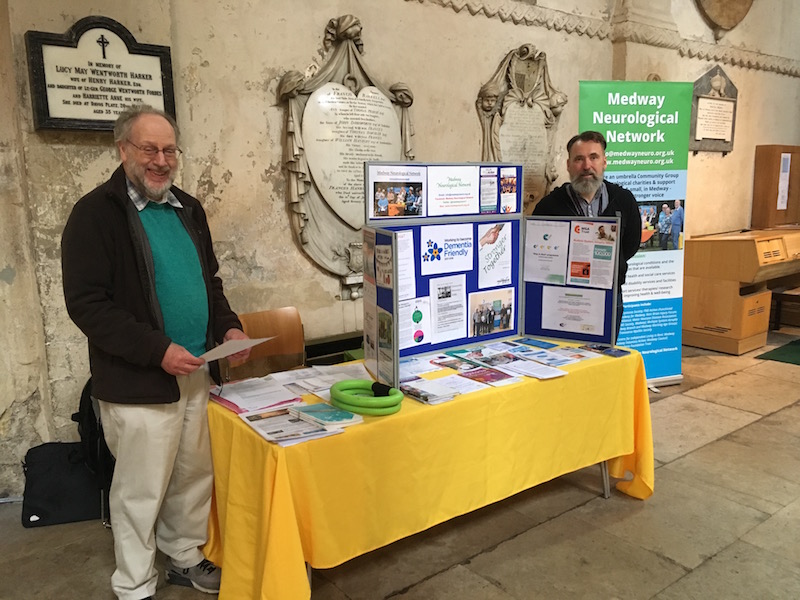 Parkinson's UK Awareness Event at Sainsbury's, Pentagon Centre, Chatham on 10 April 2018
Parkinson's UK Medway Working Age Group Coordinator Phil Bungay with Rochester and Strood MP Kelly Tolhurst, who kindly supported this event.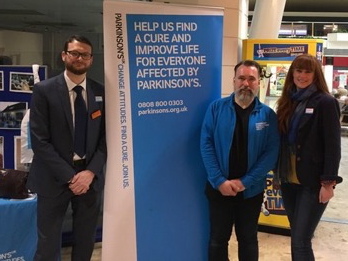 Parkinson's UK World Parkinson's Day Awareness Event: Sainsbury's Hempstead Valley Shopping Centre, 11 April 2018
Medway Skylarks performed at the stall to help raise awareness of Parkinson's Disease/ World Parkinson's Day. Trish Vella-Burrows led the choir and John Cornwall accompanied on the guitar. See also landing picture at the top of the page. Please use the Activities/ Skylarks tabs to see more photos.