What is a non-visible disability?
A non-visible disability is a disability or health condition that is not immediately obvious. It can defy stereotypes of what people might think disabled people look like. This can make it difficult for people with non-visible disabilities to access what they need. The impact of living with a non-visible disability can be slight, or can have a huge effect on someone's life.
Non-visible disabilities are named this way because you cannot always easily see the nature of the disability. Some people with non-visible disabilities might use mobility aids, whereas others will not. Also, some people with non-visible disabilities might have a 'dynamic disability'. This means that sometimes they might use a mobility aid, but other times they might not need it. Likewise, sometimes they might need to use a priority seat on busy public transport. Other times they may not feel they need to.
Which disabilities are non-visible? These are not limited to, but may include:
• mental health conditions, including anxiety, depression, schizophrenia, personality disorders, obsessive compulsive disordet;
• neurological conditions, such as autism, Asperger's syndrome, Parkinson's Disease and Multiple Sclerosis;
• visual impairments or restricted vision;
• hearing loss; • sensory and processing difficulties
• cognitive impairment, including dementia, traumatic brain injury, or learning disabilities; non-visible health conditions, including diabetes, chronic pain or fatigue, respiratory conditions, incontinence.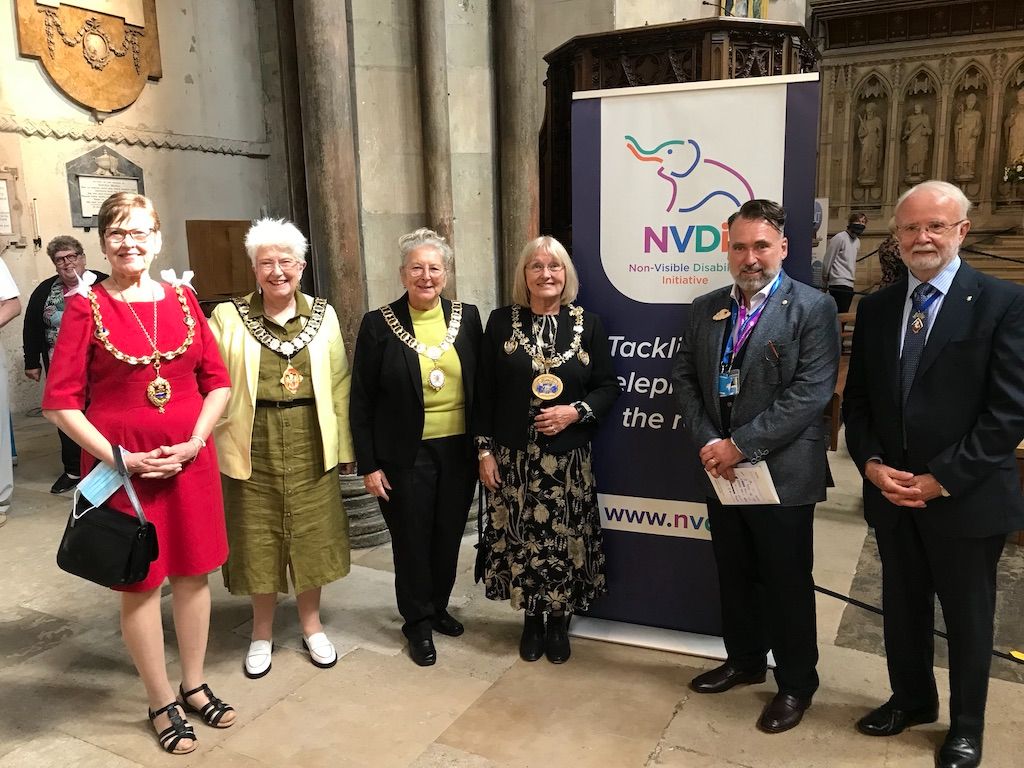 Non-Visible Disability Initiative
Medway Non-Visible Disabilities Initiative (NVDi) aims to tackle the impact of non-visible disabilities by teaching local businesses how they can adapt and make small changes to help customers who may have a non-visible disability. People living with non-visible disabilities can have difficulties accessing what they need which impacts their day-to-day life.
NVDi Survey:
NVDi would like to find out the existing level of awareness of non-visible disabilities in Medway and how best to raise awareness. Options for different levels and formats of training are offered for you to choose which, if any, would suit you or your organisation or business. To take this quick survey please click
SURVEY
. Closing date 24 June 2022.
The initiative was launched at Rochester Cathedral on Friday, 3 September, and was opened by the Mayor of Medway, her Worshipful Cllr Jan Aldous, and by the Dean of Rochester Cathedral, the Very Reverend Dr Philip John Hesketh. The event included a breakdown of the NVDi strategy, an overview of Medway's initiative and speeches from partners, such as Professor David Wilkinson from the University of Kent and others. Justin Tomlinson MP, the former Minister of State for Disabled People, Health & Work sent a video message providing an overview of government's Strategy on non-visible disabilities. The participants were heralded into the Launch event by the Medway Skylarks singing & movement therapy group and a video of their performance can be viewed
HERE
. Stallholders representing a wide range of organisations and charities that supported the NVDi were present to provide information and help raise awareness; please click
HERE
to see the programme that lists the stallholders and the talks that were presented.
Many thanks to all who contributed to the Success of the Launch, including: Master of Ceremonies Jim Gilmour (Hempstead Players) and the Rochester Rotary Club who provided refreshments.
To see KMTV coverage of the NVDi Launch event, please click
HERE
. This report, by Jadzia Samuel, is now available on the Dailymotion.com platform.
A BBCRadio Kent interview given by Jenny Walsh, CEO of Headway Kent is currently unavailable.
The initiative can be broken down into 3 parts:
1. • Awareness Qualification: The first part of the initiative is the creation of a Non-Visible Disabilities Awareness Qualification. The aim of the qualification is to raise awareness of non-visible disabilities for those working in customer service or front-line roles. The qualification includes a combination of theory based learning and practical workshops to equip the learner with the knowledge to recognise non-visible disability and the skills to empower them to provide a service that promotes inclusivity and celebrates diversity. The awareness course is being developed by Mid-Kent College in association with Medway Adult Education and a Parkinson's nurse specialist. The course, which is validated at Level 2, is aimed at all front-line staff, including retail, hospitality, leisure, the police, and transport staff. There has been a good response to this course, which was launched on 29 October 2021. The first course started on 1 November 2021. For further details of the course and how to apply; please contact becky.farley@midkent.ac.uk .
2. Development of the 'Medway Locals' Smart Phone App: in association with the University of Greenwich. The mobile app will highlight disability access and services. After being trialled in Rochester, it will be rolled out across Medway. The mobile app is being developed in association with the Engineering Department, Medway campus of the University of Greenwich. A student has progressed this project and, following some technical issues, the University of Greenwich is making further progress.
3. Awareness course: Working with the Alzheimer's Society to encourage retailers and employers of Medway to undertake a Dementia-Friends Awareness-Course. The NVDi are piloting the project to make Rochester High Street the first fully Dementia Friendly Street in Kent - Medway leading the way!!
Cllr David Brake, Medway Council's Portfolio Holder for Adult Services, said: "I am pleased to be supporting this important NVD Initiative which will raise awareness of non-visible disabilities, which affects some residents' everyday lives. We are committed to ensuring all Medway residents live independent and active lives and this initiative will ensure that extra support is available for those who need it. I look forward to working with partners on this exciting and life-changing project."
Phil Bungay was diagnosed with Parkinson's Disease in 1992 at the age of 45 and continued his career in the civil service in Whitehall until 2017, when he took early medical retirement. Phil said: "I am so pleased that Non-visible disabilities are being highlighted - as all is required is for everyone, but particularly front line staff, to take a little more time and not to judge on first sight. I know that this happens regularly; I have been refused service in a shop because 'I look drunk', asked why I have a Radar key for a disabled toilet as 'you don't look disabled' and there are lots of similar stories from the Parkinson's Working Age Group - and across all Non Visible Disabilities."
Medway Non-Visible Disability Steering Group:
Cllr David Brake - Medway Council (Chair)
Phil Bungay - Secretary of NVDi and a person with Parkinson's
Martin Nagler - Co-Lead Medway Neurological Network (Treasurer)
Scott Elliott - Head of Health & Wellbeing Services, Medway Council
Ria Saha - NVDi Future Structure Coordinator, Health & Wellbeing Services, Medway Council
Becky Farley - Commercial Director, Mid-Kent College
Dan Mace - Head of Community Learning, Medway Council
Anne Fribbens - Neurology Nurse Specialist
Henry Iwunze - Director, Home Instead Medway (Equalities Consultant)
Stephen Russell - Director, Copper Rivet Distiller

NVDi was originally conceived by Medway Champion Paul Wells and is now being progressed by the above Steering Group.
Funding of £5,000 for the pilot study, based on Rochester high Street, has been kindly provided by the Rochester Riverside Community Board.