Medway Neuro-Cafes
To view and download a copy of the MNN Neuro-cafe flyer, please click

HERE




ONLINE Virtual Cafes:





1. Parkinson's UK & Neuro Cafe: now Hybrid Face-to-Face/ Zoom online.

First Friday of the month: next meeting is

Friday 1 October 2021, 13.30 to 15.30

hrs.

This neuro-cafe is an initiative between Parkinson's UK in Medway, Medway Adult Education, and Jasper's Community Cafe. Your regular dose of cake & companionship. Jasper's neuro-cafe was officially relaunched on 9 October 2020, see below for details.




2.

Brainstormz:

Saturdays starting at 13.00 hrs. Brought to you by Walderlade Together (WALT) -the Net Community Hub - in association with Functional Neurological Disorder Action (FND Action) - open to all with a neurological condition. To find out more please click

HERE

.




Medway Neurological Network (MNN) joined the Peninsula Opportunites Group and the wHoo Cares Project in initiatives to reduce isolation, initially on the Hoo Peninsula. MNN is also working in partnership with Medway Adult Education to provide neuro-cafes in Medway, starting with Jasper's. To this end MNN has helped launch or promote 6 Neuro-cafes to provide your regular dose of coffee and companionship.




NEW 'Place of Welcome' NEURO-CAFE has started at ST. AUGUSTINE'S CHURCH, 192, Rock Road, Gillingham, Kent ME7 5PW on the 4th Wednesday of each month from 9am to 11am. Socially distanced light refreshments and activities, including crafts provided by Medway Adult Education. Look out for the MNN stall.




To view an information document on Medway Neuro-cafes, prepared by Phil Bungay in May 2020, please click

HERE

.
MEDWAY NEURO-CAFES
Eternal Lakes PUK Cafe/ Neuro Drop-In
Next Meeting: Thursday 2 June 2022, 12 noon to 3pm
Free drumming session with Nicky Underwood from 12.30pm
Eternal Lakes, Cliffe, on the Hoo Peninsula: Salt Lane, Cliffe ME3 7RT.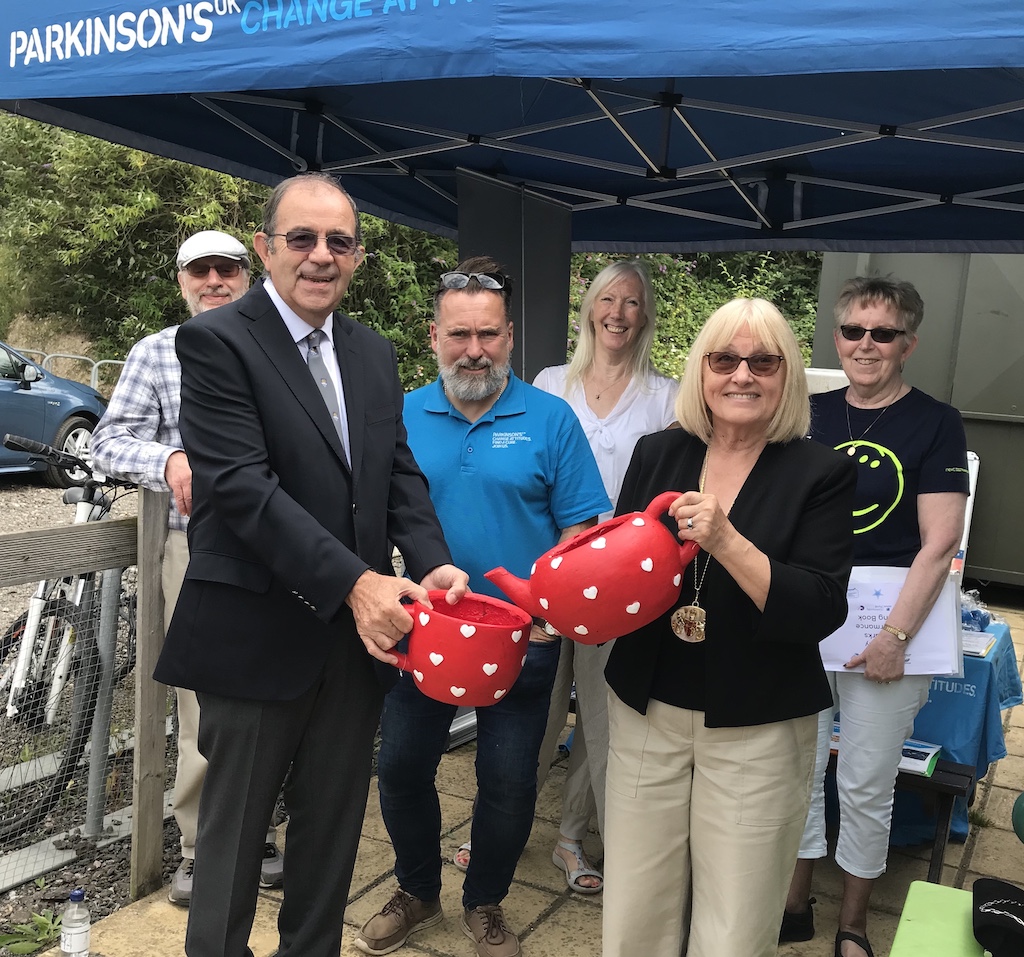 Opened by Mayor of Medway, Cllr. Jan Aldous
The Mayor of Medway, with her husband Tony Aldous acting as Consort, formally opened the cafe by pouring the first cuppa.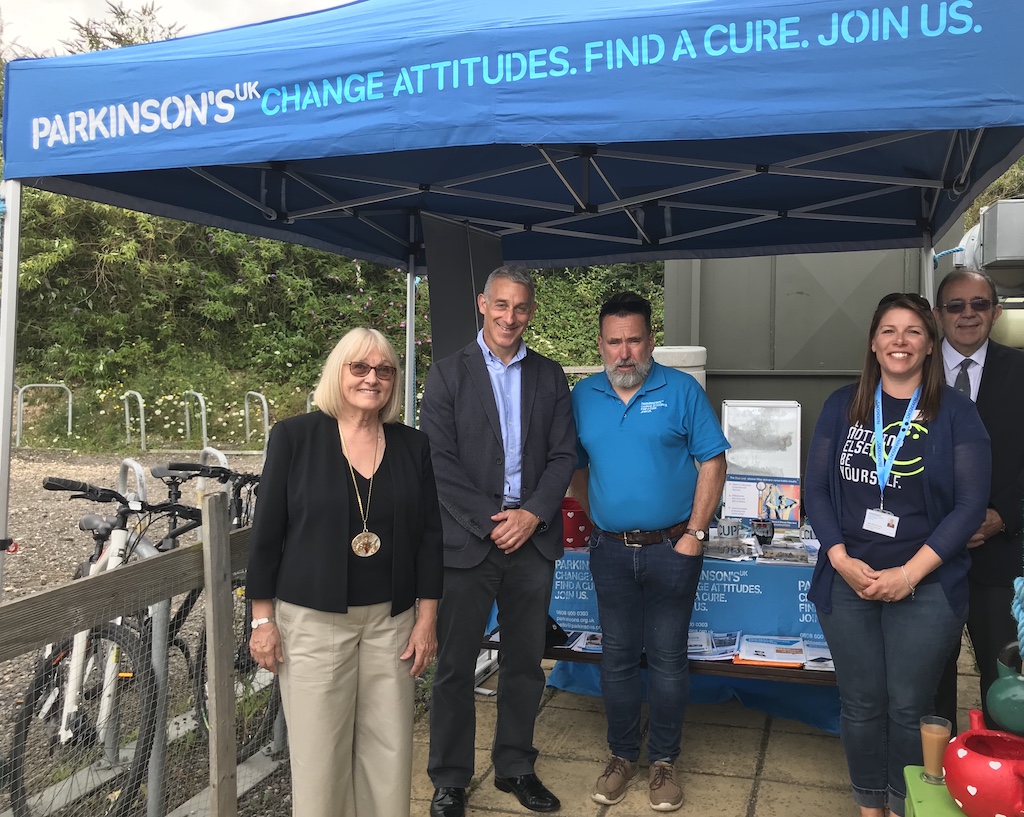 Prof. David Wilkinson, University of Kent, supported the new PUK cafe
Pictured here with the Mayor of Medway and PUK officers, Prof. Wilkinson has set-up the world's first Parkinson's Centre for Integrated Therapy - in Canterbury.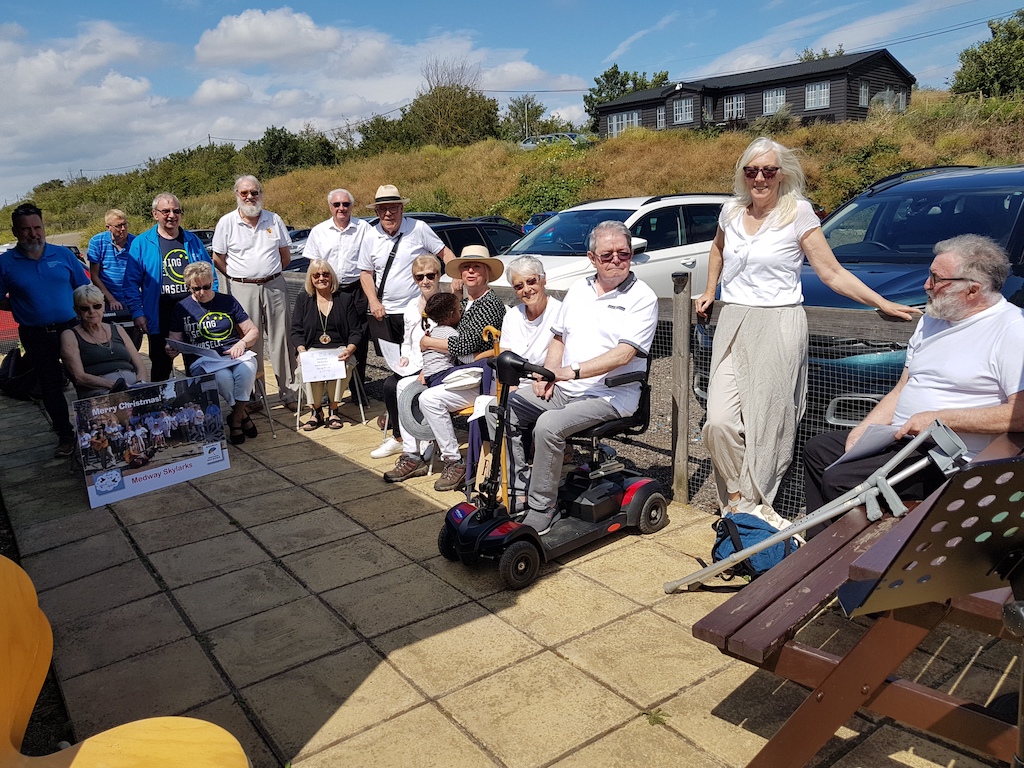 Medway Skylarks showcased the Sing To Beat Parkinson's therapy. Click left for 'Bring Me Sunshine' video.
Medway Skylarks Facilitator Sue Lovell found out the day before the event that she needed to self-isolate. Fortunately, Dr Trish Vella-Burrows (Music4Wellbeing), accompanied by keyboard player Peter, very kindly stepped into lead the choir
This Eternal Lakes Parkinson's Cafe/ Neuro-Drop-In will be open monthly on Thursdays, as shown on the poster, and then on the first Thursday of each month.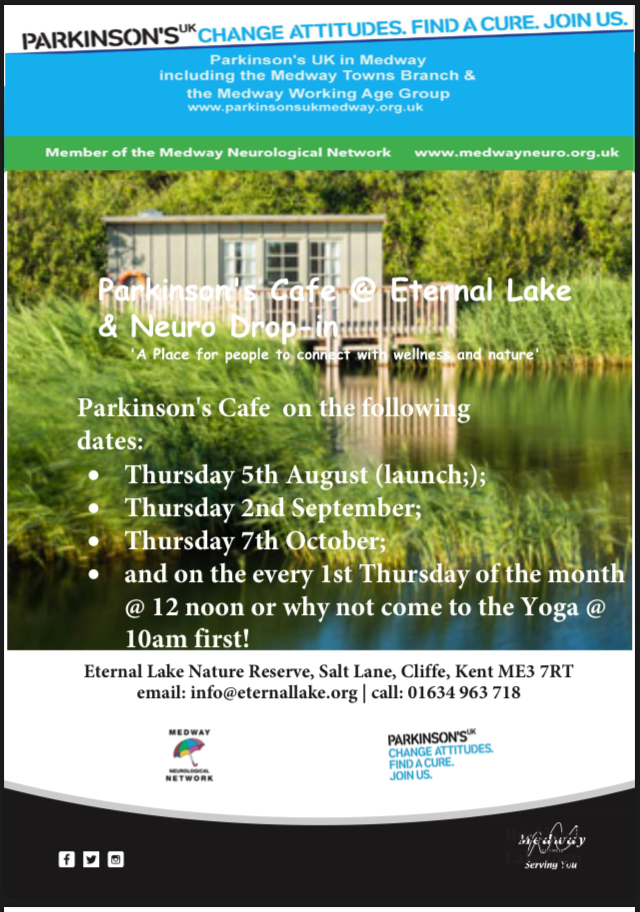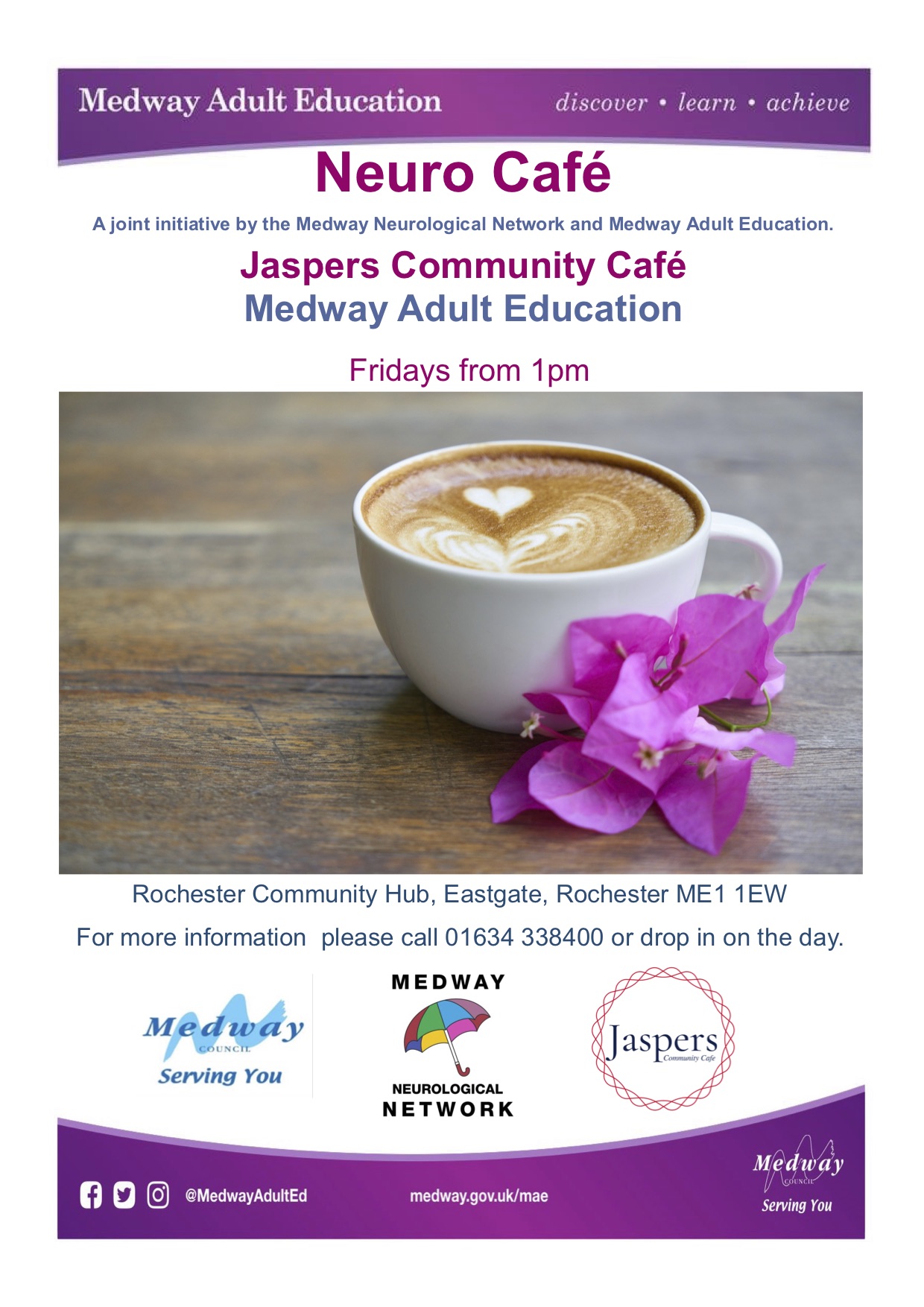 1. Jasper's Neuro-Cafes, at Jasper's Community Cafe, Rochester Community Hub, Eastgate, Rochester ME1 1EW - (Term-time only).
We are pleased to announce that this cafe will re-open as a face-to-face event on Friday 10 September, hosted by the Motor Neurone Disease Association (MNDA). The Cafe will then open weekly, Fridays 1pm to 3pm, with the following charities hosting:
1st Friday of month: Parkinson's UK
2nd Friday: MNDA
3rd Friday: Dystonia Society
4th Friday: FND Action (Functional Neurological Disorder)
5th Friday: Medway Neurological Network
It is hoped to also make these Cafes available on Zoom.
To check availability and register for the Zoom cafe please Email:
info@medwayneuro.org.uk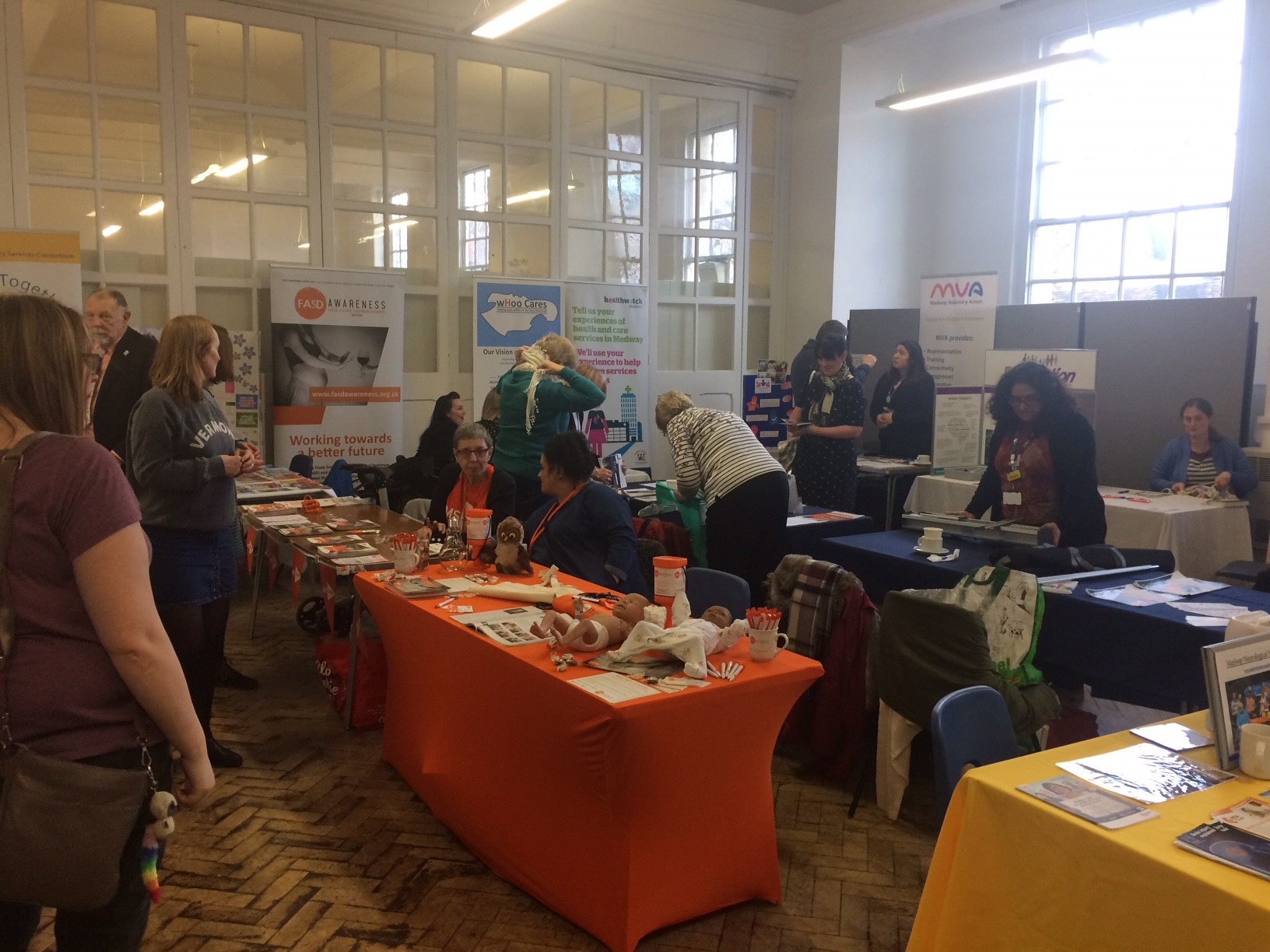 Information Stalls
Please click on the image to the left to see a video of the general scene at the launch: stall holders and the band in a room adjacent to Jaspers cafe. We would like to thank the stall holders for supporting this launch and help make it a success.


5 in the Bar: You Don't Know Me
Led by Tony Ellingham, aka Dorian Gray, this band serenaded us with this song, made famous by Eddy Arnold. This splendid band had a CD of their work for sale in aid of Parkinson's UK and Prostate cancer.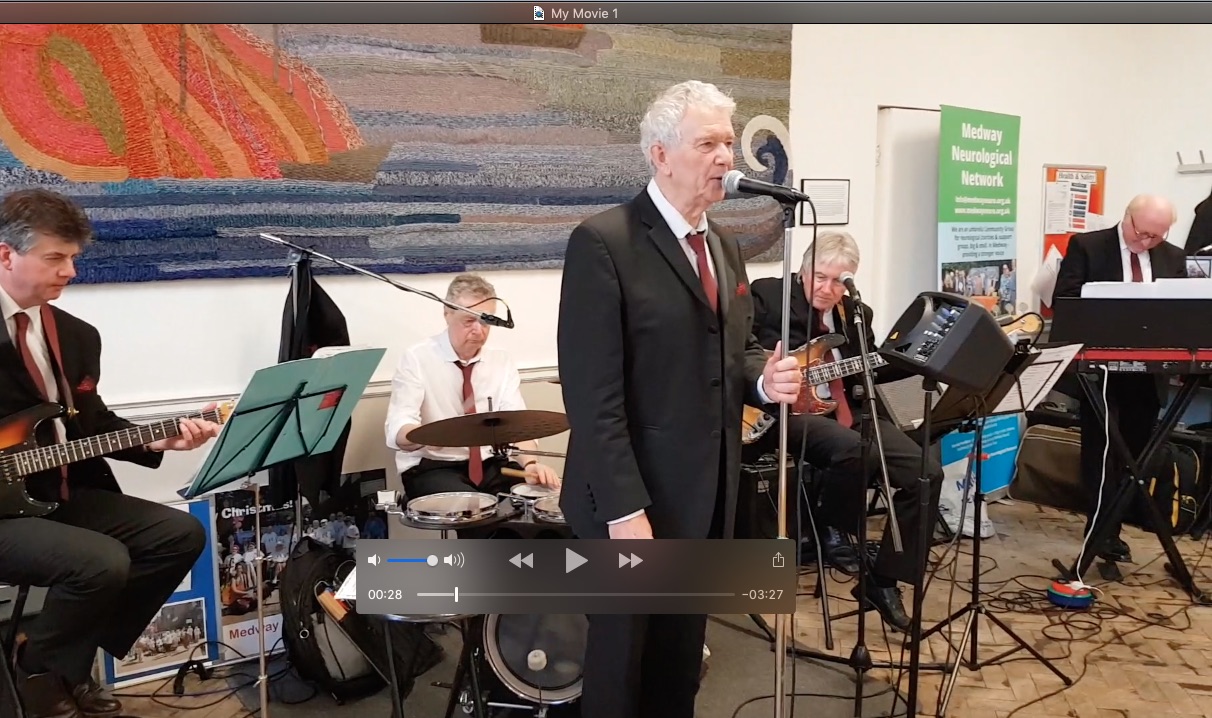 5 in the Bar: Can't Take My Eyes Off of You
The band closed their act with this song. Many thanks to Tony and the 5 in the Bar band for supporting the Launch of Jaspers Neuro-cafe.
Medway Neurological Network would like to thank Medway
Adult Education
, notably Dan Mace (Programme Manager for Community Learning) and Lara Dix (Programme Coordinator), for their help in setting-up Jaspers Neuro-cafe.
We are very grateful to Jaspers Community Cafe for offering to host the neuro-cafe.
The launch was covered by the Kent Messenger and was published in the 23 January edition, click
HERE
to see the article.
Jaspers Neuro-Cafe Launch
17 January 2020
Opened by the Mayor of Medway Cllr. Habib Tejan. Click on image below to see video.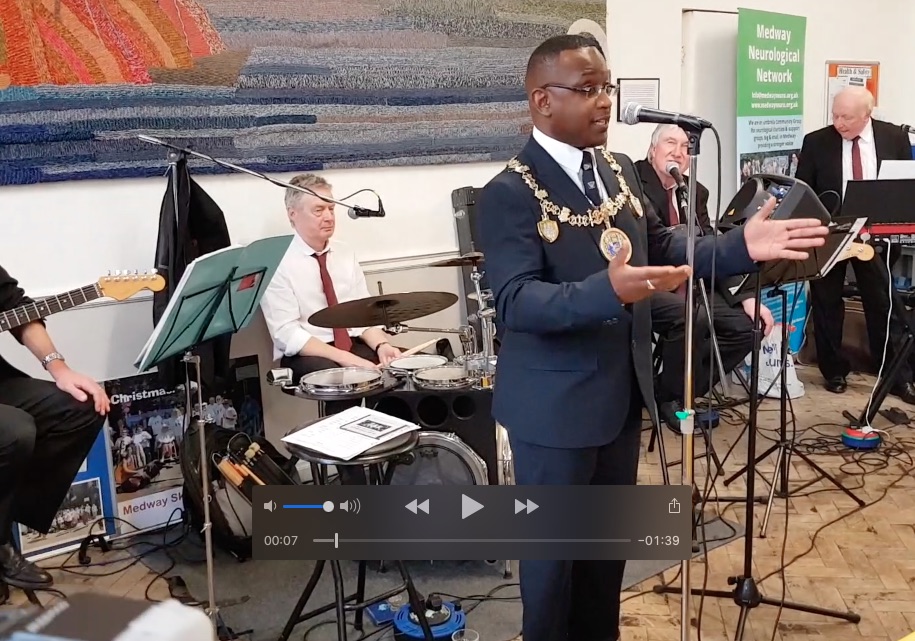 2. Brainstormz Neuro-Cafe
Is now available as a largely virtual neuro-cafe that is open every Saturday afternoon. For more information and a link to join, please click HERE.
This neuro-cafe is delivered by Walderslade Together in association with Medway Neurological Network and hosted by FND Action. It is held at the Net Community Hub, 70 Silverweed Road, Walderslade ME5 0QX every Saturday afternoon from 1pm to 4pm.
For more information please visit: www.waldersladehub.org or phone: 01634 319633.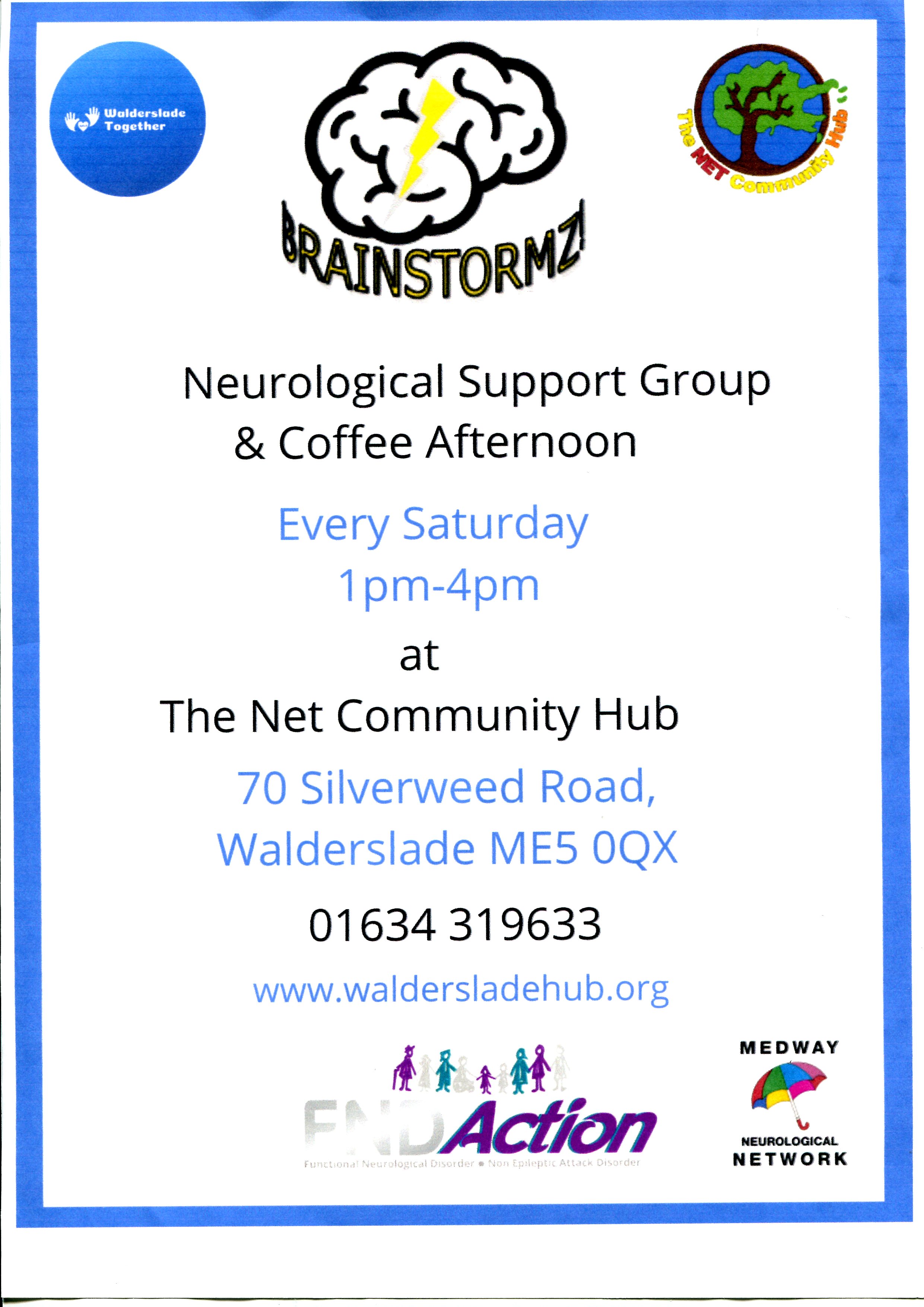 3. Companion Neuro-Cafe, Lower Stoke
Next Companion Cafe Drop-In: Sorry, closed until further notice due to the Coronavirus pandemic.
Is open to people affected by any neurological condition, including their carers, family and friends. This neuro-cafe is held on the 4th Thursday of each month, from 11am to 1pm, at the Peninsula Methodist Church, Lower Stoke, Allhallows Road, Rochester, Kent ME3 9SL.

Information about neurological conditions and the support available in Medway is available. There is also the option of having a go at some craft activity, see below.
You are most welcome to join us!!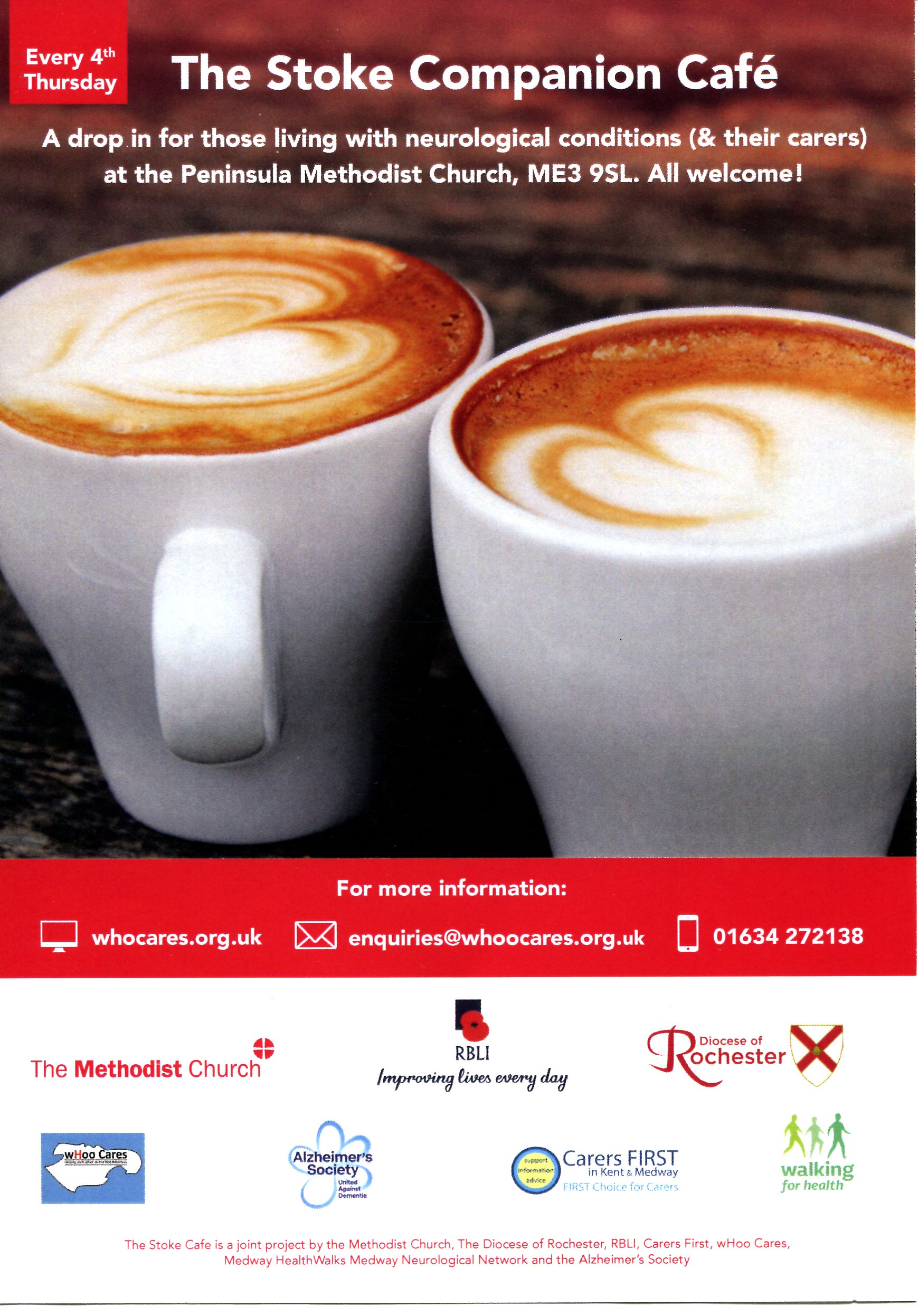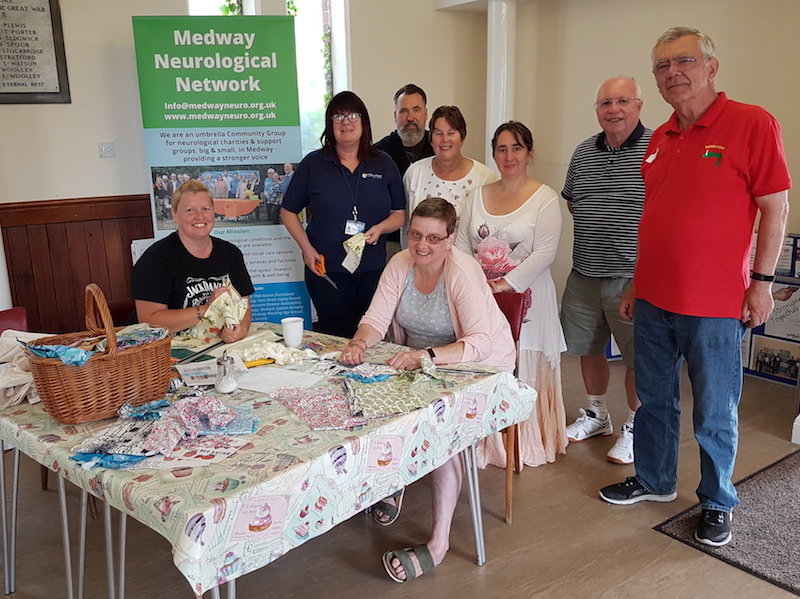 Companion Cafe Craft Group
You also have the option of joining a craft group activity whilst visiting the Companion cafe. We are planning a POPPY MAKING activity in August & through September, hopefully outside in the park, if the weather allows.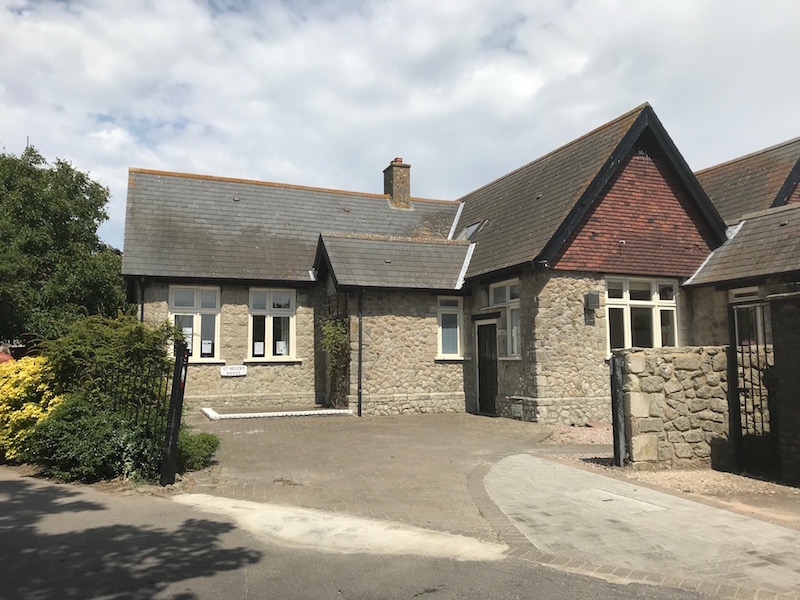 4. Cliffe Memory Cafe
Next open on: Uncertain, due to Coronavirus pandemic.
Open on the second Friday of the month from 1.30 to 3.30pm at St Helen's House (next to St Helen's Church), Buttway Lane, Cliffe, Kent ME3 7QP.
Organised by St Helen's Fellowship in the Community, this cafe welcomes all affected by memory problems & their carers, family or friends. Janet says, "Join us for an afternoon break with cake - its free"!! For more information please see the poster
HERE
, or contact info@medwayneuro.org.uk.
If you are interested in attending this free event, but you don't have transport, or you would like to volunteer to help, please contact Rev. Andy Hobb on 01634 221 489.
5. Rochester Dementia Memory Cafe
Next open on: Uncertain, due to Coronavirus pandemic
Meets every 4th Friday of the month, 1.30pm to 3.30pm at The Parish Centre, St Peter's Church, Delce Road, Rochester, Kent ME1 2EH.
Please click
here
for the flyer
If you have dementia, are caring for someone with dementia or have someone within your family or community who has dementia - then come along to your local Memory Cafe. Come to meet others in a similar situation - have a cup of tea and a chat and share information and experiences. Friendly volunteers will be on hand to provide information and support and health care professionals make regular visit.
Grain Village Carnival & Fete, 21 July 2018
To the right you can see the Medway Neurological Network float, promoting the Hoo Peninsula Neuro-cafes, as it arrived at the Grain Fete. Representative from each of the 4 cafes helped decorate the float and then ride through Grain, singing the Medway Neuro-Cafe song at the top of their voices.
Many thanks indeed to the Swain Group for providing the lorry, along with driver Lee.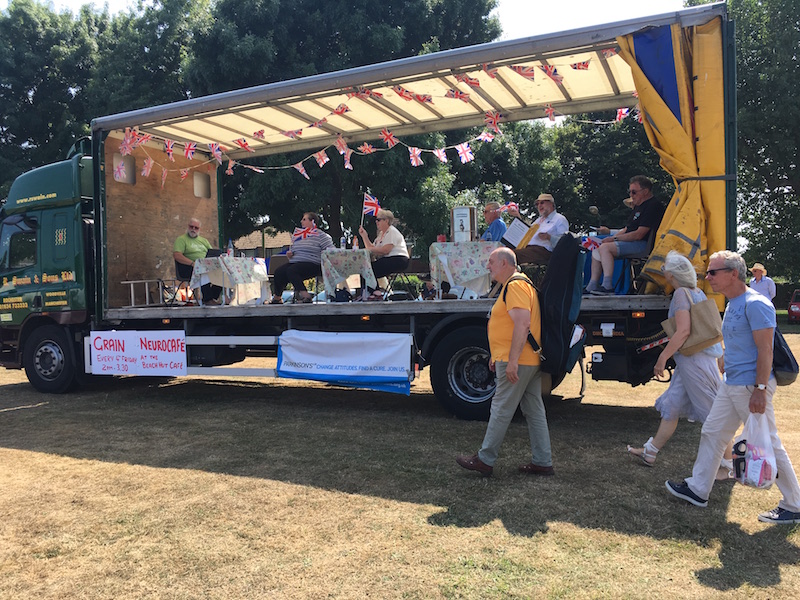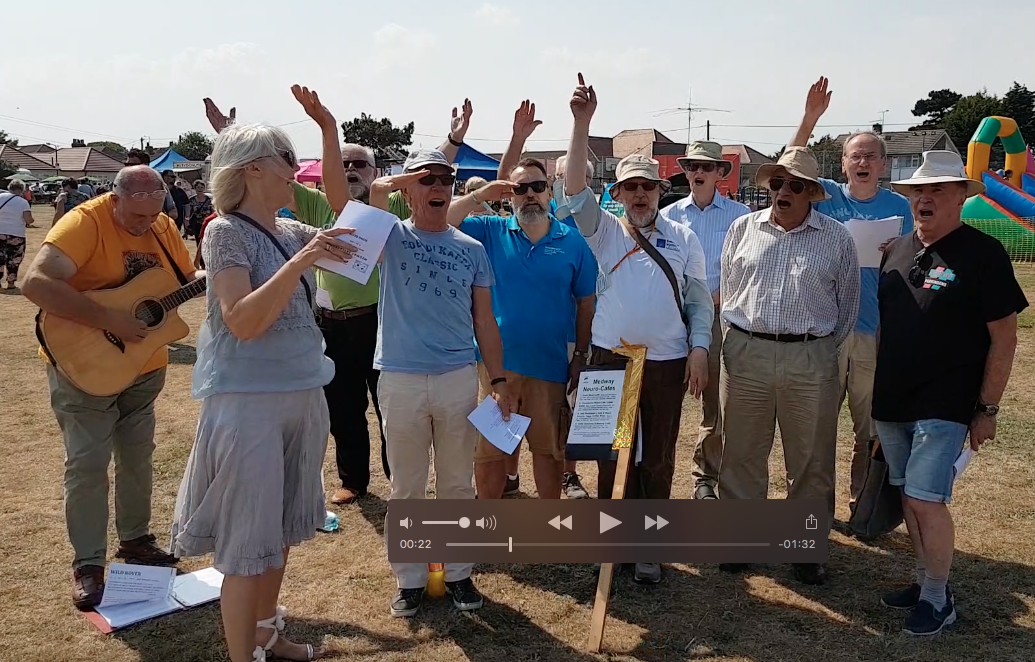 Medway Skylarks, wandering minstrels at the Grain Fete.
After the carnival the somewhat hoarse songsters aboard the float joined the rest of Medway Skylarks to form a band of wandering minstrels at the Fete. To the left you can see a video of us singing 'Oh, What a Beautiful Morning'. It was in fact an extremely hot afternoon!!
See under the
Skylarks tab
a practice performance of the Neuro-Cafe song, that was especially written for this event.
Many thanks indeed to Trish Vella-Burrows for leading the choir and John Cornwall for accompanying on guitar.