Next Medway Skylarks Session: Saturday 2 December 2023
Our next hybrid Skylarks session in the Pembroke Building, University
of
Greenwich, North Road, Chatham ME4 4TB on Saturday 2 December 2023.
Drive around the campus, up Central Avenue, turn right at the top where the buildings end and then drive along this road returning towards the front of the campus. Please park between NELSON and BLAKE buildings, close to the doors at the centre of the Nelson Building. Enter these doors and turn left to find Room N008 on the left.
Please arrive 10.15 am for 10.30am start.

If you would like to join us, but haven't registered yet, please contact us by eMail: info@medwayneuro.org.uk. Please see our
Skylarks flyer
. Once registered we can also send you the Zoom link, if required.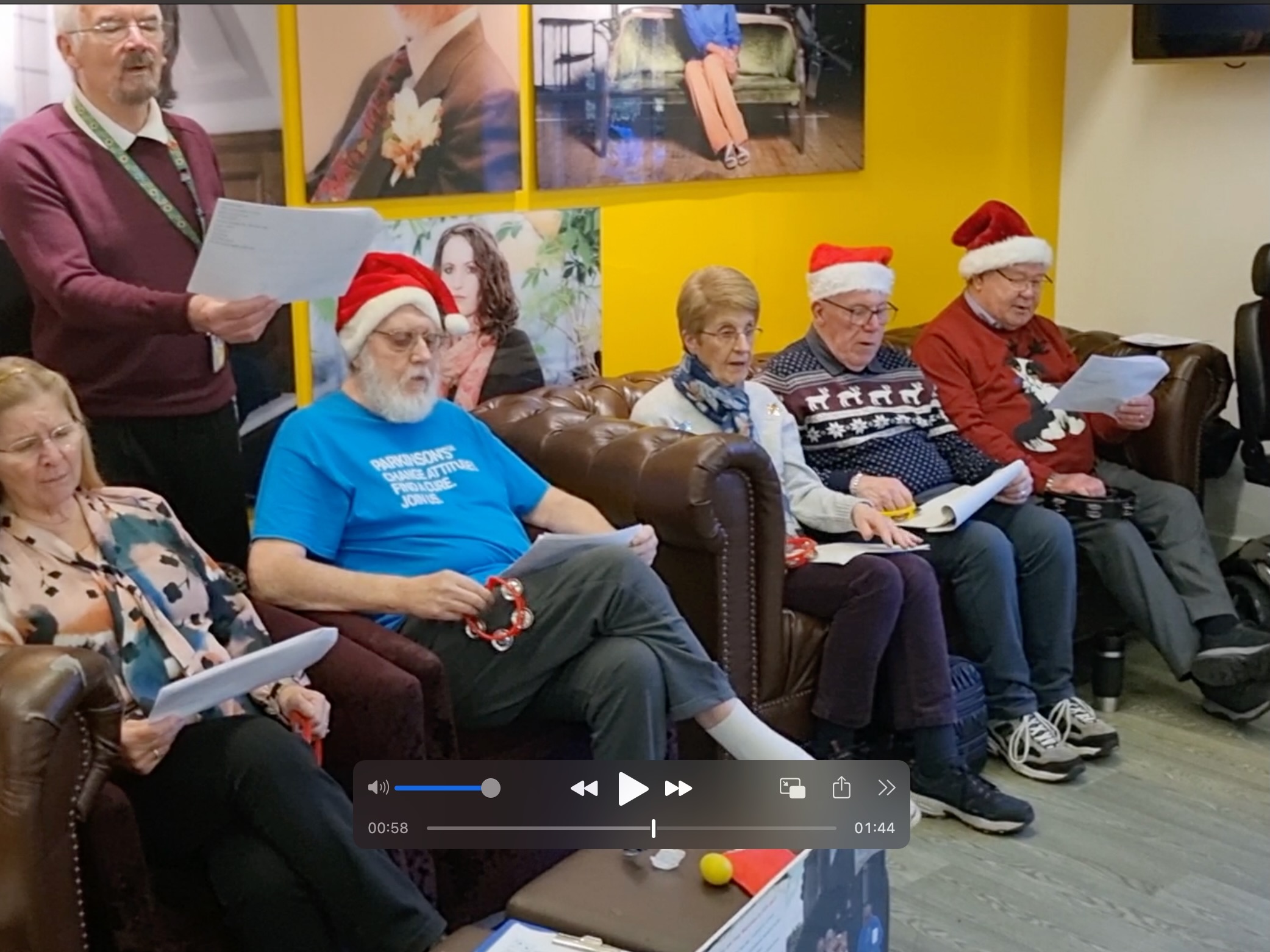 Skylarks Performance at the University of Greenwich Winter Wonderland Open Day, 25 November 2023
Medway Skylarks were invited to give a Christmas Carol performance at this Open Day to provide entertainment over lunch.
We warmed-up and practised before performing at noon, using our Xmas23 songbook. We started with Calypso Carol and this is captured in the video that can be viewed by clicking the picture to the right. Our performance was well received by the diners. Many thanks to our facilitator, Sue Lovell, who led us brilliantly.
We would like to thank the University of Greenwich, School of Engineering and Science very much for supporting us and even providing a meal voucher to eat in the canteen!! Thanks you very much Hayley Smith and Linda Nicolaides for organising this event. The University very kindly hosts our weekly sessions free of charge.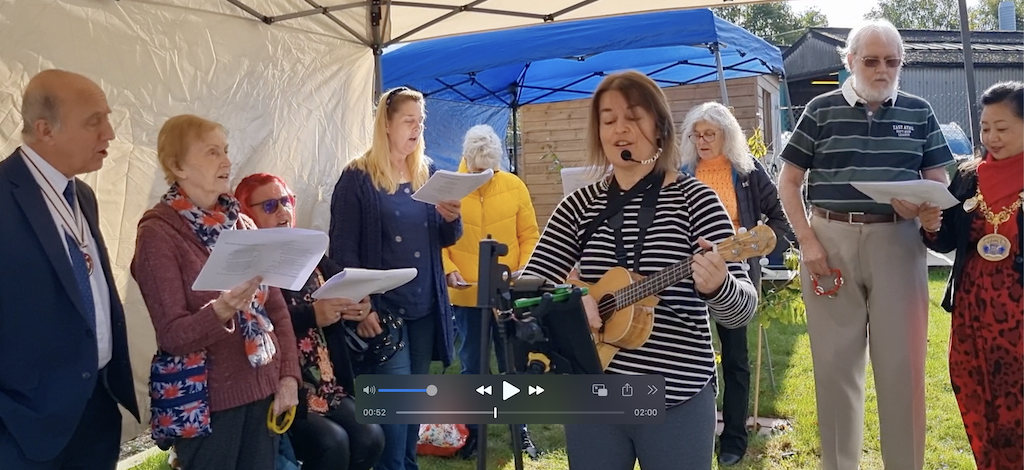 Skylarks at Launch of the Bread of Life Neuro-cafe, 24 October'23
Medway Skylarks were pleased to invite the Medway Singers to join them in a performance at the launch of the MNN's Bread of Life Neuro-cafe on Tuesday 24 October.
Please click the picture on the right to see a video of us performing 'Bye Bye Love'. WE were joined for this song by the Deputy Lieutenant for Kent, Brig. Peter Gilbert (far left) and the Mayor of Medway, Cllr. Nina Gurung.
Thank you Sue Lovell for brilliantly leading the community singing at the start of the event and this Skylarks performance at the end.
The Bread of Life Neuro-cafe will be open on the fourth Tuesday of the month, 10am to Noon, at:
17, Darnley Road. Strood, ME2 2EU.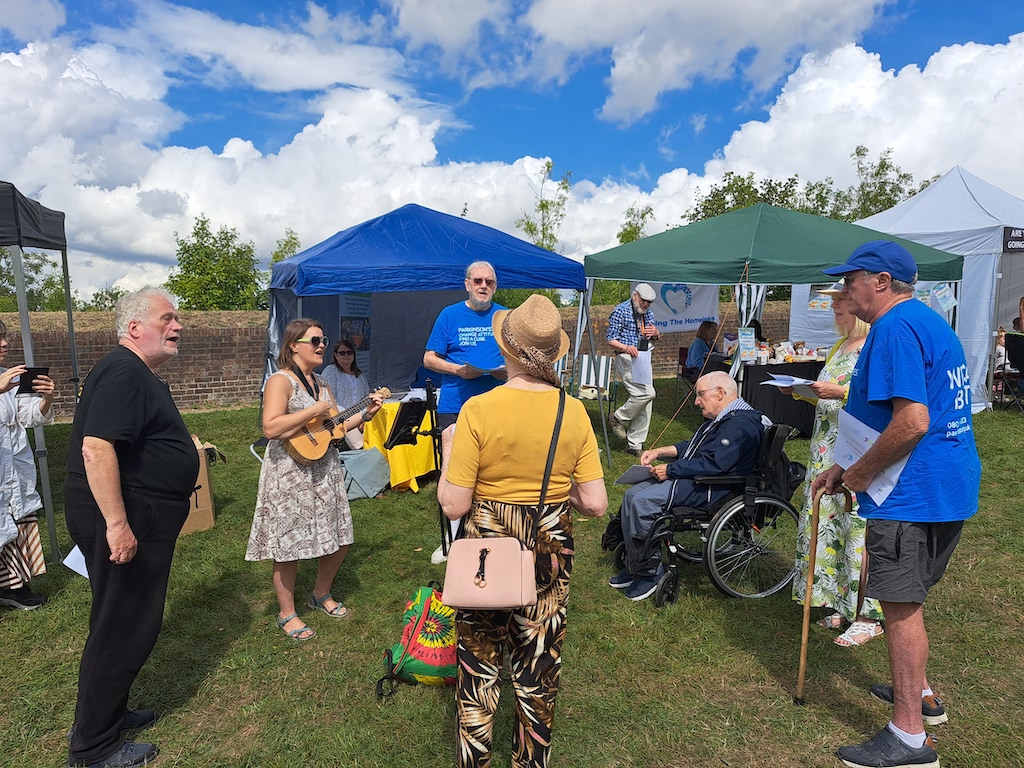 Skylarks at Sticks 'N' Stones Well-being Festival, 26 August 2023
Medway Skylarks held a public session at the Sticks 'N' Stones Well-being Festival held at Fort Amherst. The Festival was organised by the
Paramount Foundation
and attracted a host of local community groups.
A video of Medway Skylarks session can be watched by clicking on the image to the right.
Many thanks to Sue Lovell for leading the group and for the intrepid Skylarks who managed to scale Fort Amherst to participate.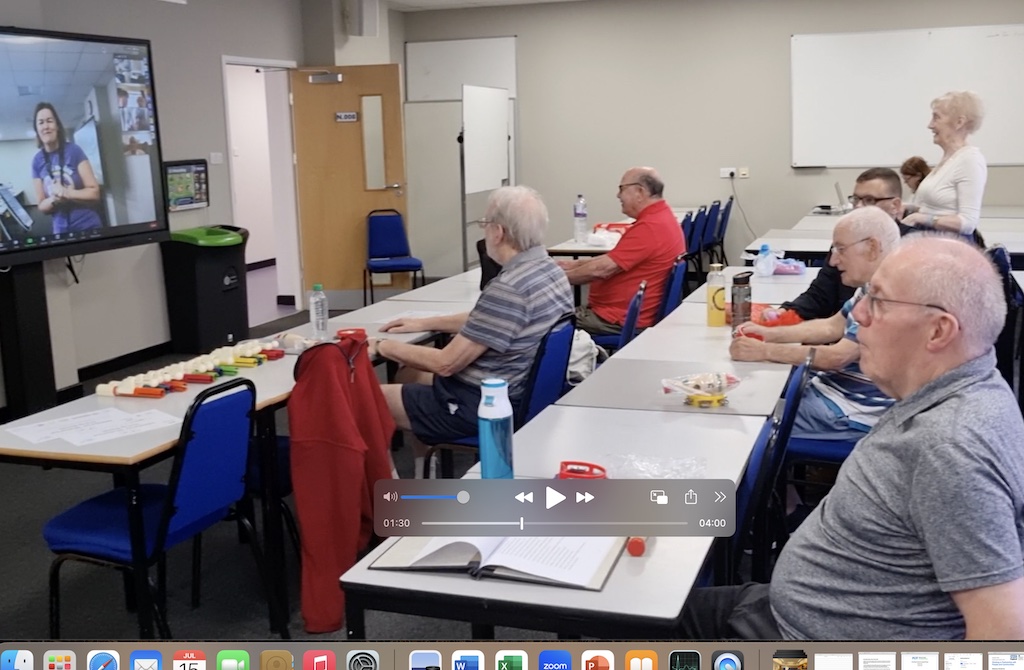 Skylarks, 15 July 2023
We welcome Sue Lovell back and she reveals her pantomime experiences as she teaches My Dog He Can do the Can Can to our new Skylarks. Please click on the picture to the right to watch us having a good time singing this song; all very therapeutic!!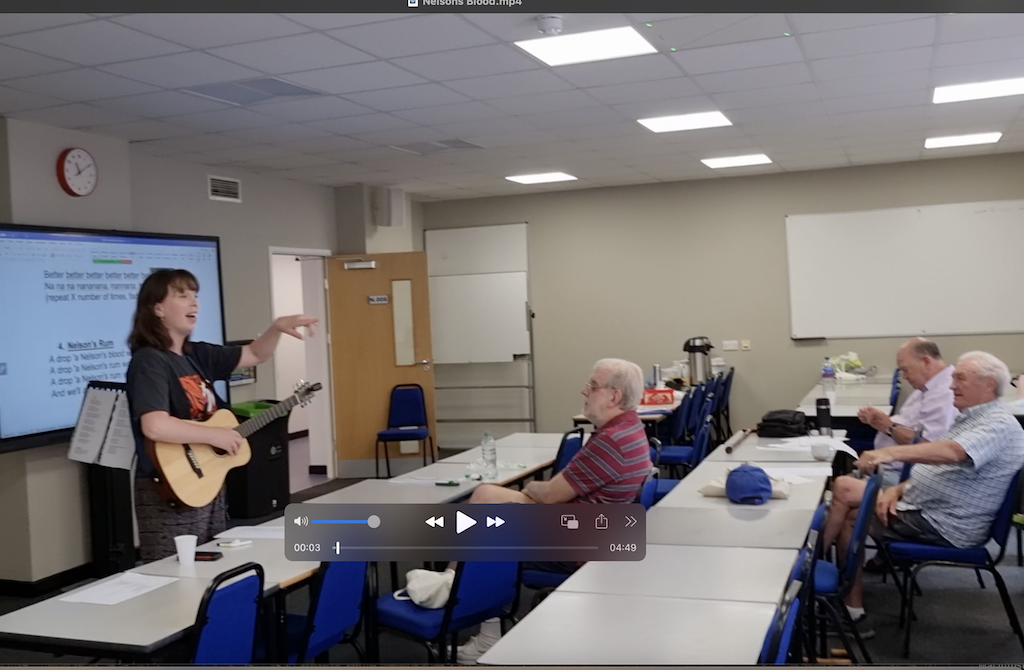 Medway Skylarks, 8 July
Watch Rachel Lowrie, deputising for our regular facilitator Sue Lovell, introducing us to a new song (for us) called 'Nelson's Blood'. It seems that Nelson's body was preserved after he perished at the Battle of Trafalgar by treating it with rum.... Our Skylarks were encouraged to suggest other drinks that Nelson's body could also have been preserved in.
Many thanks to Rachel for a very enjoyable and therapeutic session.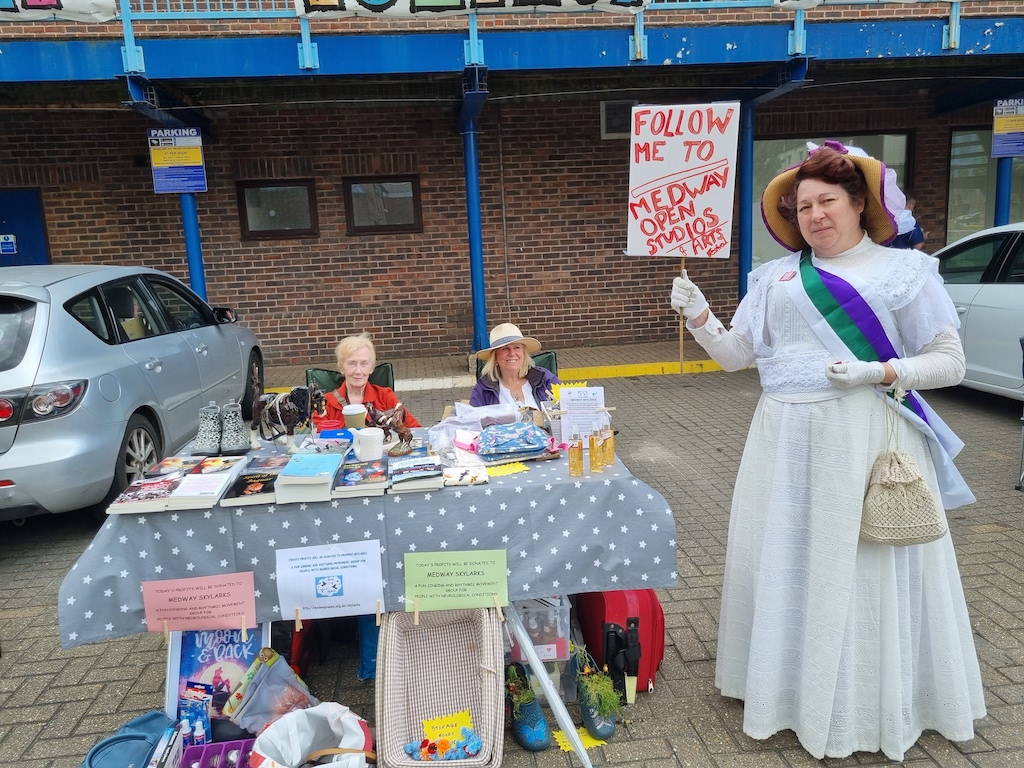 Skylarks Fundraising, Sun Pier, 1 July 2023
On Saturday 1st July Skylarks Susan Pope and Judith Northwood-Boorman raised a

total of £180

for our Skylarks Group
at the Chatham Intra Art Flea Fair held at Sun Pier Chatham, from 11.0am to 3.0pm. On sale were author-signed copies of their own published book titles, Susan's CD of Little Stars, up-cycled craft items by Judith, and assorted china and many bric-a-brac items.
To the right you see a picture of the stall being visited by a 'Victorian' lady who was promoting the event.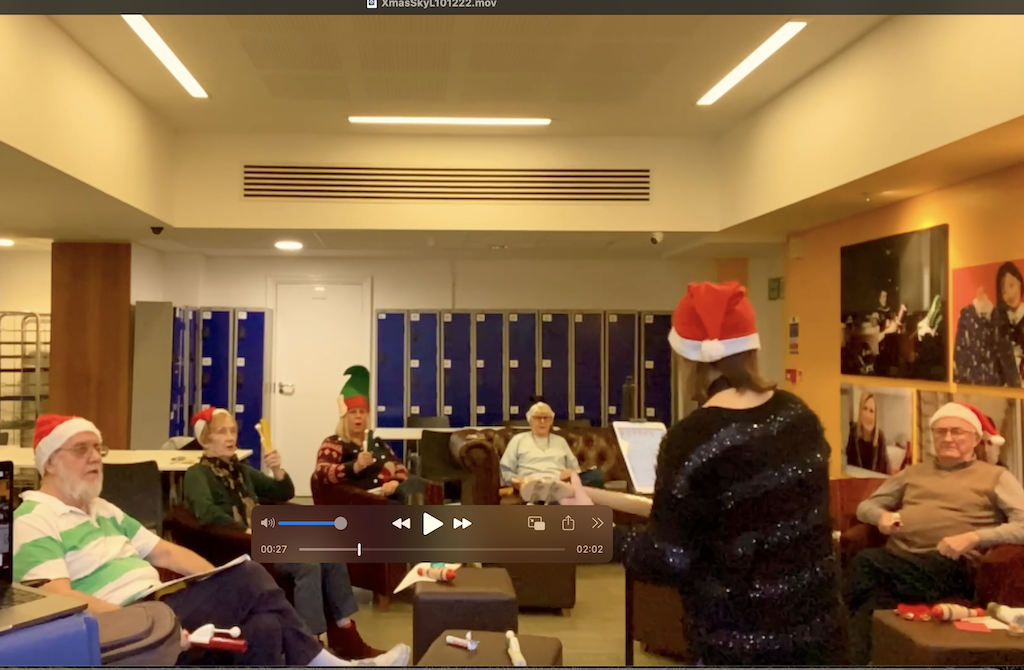 Skylarks Xmas 2022, video
Sue recorded this Xmas video on 10 December 2022, but accidentally in slow motion!! She has now found a way to bring us up to speed!! Please click the picture to the right to see us singing Calypso Carol and playing hand-chimes.
This was a hybrid session, a week before our Skylarks Xmas Party.
Thank you Sue for a reminder of our Xmas festivities.